I'll be out of cabinet – Ngilu, CS tells FM station staff to prepare for her return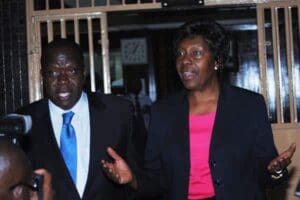 SUSPENDED Lands Cabinet Secretary Charity Ngilu has hinted at not rejoining the government and instead using her time to strategise for 2017.
The CS, who was suspended alongside four of her colleagues in late March, is said to have communicated her decision to close confidants.
Ngilu is also said to have made similar comments on Wednesday while on an impromptu visit to her Kamba regional radio station, Mbaitu FM.
"She has told presenters to expect to see her more often at the station as she is not likely to go back to Cabinet," a source, who requested not to be named, told the Star.
Ngilu and her colleagues were asked by President Uhuru Kenyatta to step aside for having been adversely mentioned in a report prepared by the Ethics and Anti-Corruption Commission.
The President is expected to make a decision on the Cabinet Secretaries next week, after the expiry of the 60 days that he directed the investigations be dispensed with.
On Monday, Director of Public Prosecutions Keriako Tobiko said that the investigations by the EACC into the five Cabinet Secretaries were almost done.
Ngilu, who was grilled by the EACC for a whole day in April, is accused of asking for a Sh65 million kickback from farm owner Evanson Waitiki.
She allegedly instructed valuers from her ministry to inflate the value of Waitiki's 930 acres, number Mombasa/MN/1/397, by Sh110 million.
The land is located in Likoni and is currently valued at Sh9.3 billion.
Ngilu has dismissed the claims and even said that Uhuru was aware of the transaction, which Waitiki said had not happened.
When she appeared before investigating officers in April, the minister dragged in President Uhuru Kenyatta's name and accused presidential adviser Joshua Kuttuny of pressuring her to give up a two-acre plot on State House Crescent, Nairobi.
Ngilu, who was questioned for close to nine hours at the EACC offices at Integrity Centre, said Kuttuny spoke to her in her office in January and said President Kenyatta had ordered that she go slow on the land, in light of "new developments".
Ngilu however said the two acres is public property and is the planned site for Foreign Affairs ministry offices.
The ownership of the land is however being claimed by two other persons – Hailu Asfaw, an Ethiopian investor, and businessman Julius Kiplang'at Kitur.
But Ngilu remained adamant that both claimants' claims on the land were fraudulent. She claimed the latter got the land's documents when he worked for the President's Escort during the Daniel arap Moi era.
Ngilu was further questioned on allegations that she intended to get a Sh65 million kickback from the inflation of the value of Waitiki Farm in Mombasa county.
"The CS allegedly instructed the valuers from her ministry to overvalue the land", the EACC report on public officials accused of graft says.
The Chief Land Registrar and two staffers of the Director of Survey – Julius Kitur and Albert Kitur – are also implicated in the scheme.
The EACC has also been investigating the ownership of 134.4 acres in Karen claimed by Muchanga Investment and a company associated with former National Social Security Fund managing trustee Jos Konzolo.
The case is in court.
Ngilu is one of only two politicians that President Uhuru Kenyatta included in his Cabinet for her support of the Jubilee Coalition.
Her party, Narc, also has a partnership agreement with Uhuru's TNA and Deputy President William Ruto's URP, the main partners in the ruling Jubilee Coalition.
– the-star.co.ke