Chris Kirubi Knighted By French Govt for work with youth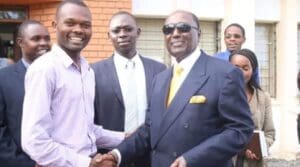 NAIROBI, Kenya, May 15 – Capital Group Chairman Dr Chris Kirubi was to be knighted by the French government on Friday evening for his work with the youth among other accomplishments.
Dr Kirubi was to receive a Legion of Honour (Chevalier) which is the highest decoration bestowed in France.
"He specifically has a big heart for young people and believes that they must be provided with real and inspirational examples," the French Embassy said in a statement on the award.
The award will be bestowed on Dr Kirubi by France's ambassador to Kenya Remi Maréchaux at his residence on Friday.
In addition to his work with the youth, the award also recognises Dr Kirubi's – who is a board member of the Alliance Française in Nairobi – efforts at the economic and cultural rapprochement between Kenya and France.
His work with the government toward Vision 2030 and in the area of HIV/AIDS is another reason the French government selected him for the honour.
It is the second time Dr Kirubi, who is a graduate of the INSEAD graduate business school in France, is receiving an award from the French government, having received the National Order of Merit Medal in 2004.
In March, Dr Kirubi was crowned Africa CEO of the year at the 2015 Africa CEO Forum Awards in his role as Centum Investments Company director.
"Because their achievements encourage the emergence of competitive African businesses which have the potential of becoming international groups, the nominees – and winners – are selected for demonstrating their commitment and results in four keys areas among them, promotion of the African private sector and strengthening regional integration," the forum organisers said.
The Chevalier of the Legion of Honour is therefore only the latest feather in the cap of a man who mentors youth on financial independence through his #AskKirubi segment on the Capital FM website, on social media through his @CKirubi Twitter handle and who makes a point of honouring invites to events where he can engage the youth and offer advice on how they can help steer Africa toward a prosperous tomorrow.
-capitalfm.co.ke