GITHURAI MAN WAKES UP TO A MISSING MANHOOD AFTER DENYING WIFE SEX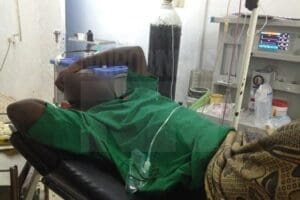 A man in Nairobi's Githurai 44 area had his manhood chopped off by his angry wife after he denied her sex.
The 32 year-old man from Gatundu said he had had a quarrel with his wife of six years the previous night, but had seen no indication of what she would do hours later after he had fallen asleep.
The man told Nairobi News that he woke up at around 3 a.m. after feeling like he had wet the bed.  To his horror, he was greeted by a bloody scene when he switched on the light, with a part of his manhood missing.
"I had taken a lot of alcohol the previous night so I felt like I had wet the bed. But when I reached out to touch the bed I felt something sticky like blood," he narrated to Nairobi News.
MUST HAVE SEX
"She had gone away for two days after we disagreed over the weekend, and when she came back on Monday, she said I must have sex with her to prove that I loved her," he said.
nairobinews.co.ke