Man-eating lions of Tsavo strike again, maul a Kenya Wildlife Service ranger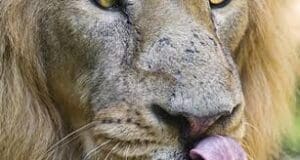 The famed man-eating lions of Tsavo National Park in Kenya are attempting to make a comeback.
According to the Kenya Wildlife Service (KWS), a KWS Ranger was attacked and badly injured by a single Lion on Monday night, whilst he was guarding an area near the construction of a new railway line. The area was to be visited by the Kenyan President, Uhuru Kenyatta.
Monday's attack follows repeated warnings by KWS personnel about the potential of being attacked by Lions in the area.
The injured KWS Ranger, who was named as Ntukai Nakodo, was with other Rangers, all of whom were armed, when the Lion pounced.
Mr. Nakodo was dragged by the Lion for several meters, before his colleagues managed to scare it off by firing shots into the air.
Speaking to Kenya's Star newspaper, the local Police Commander, Richard Bitonga, said : "Officers were guarding the tent on Monday night when one of the KWS rangers was attacked by a lion. The officer sustained head injuries. The officer was rushed to St Joseph Hospital at Ikanga where he has been admitted."
Earlier this year, KWS had urged workers building the new standard gauge railway to take extra care in the evening so as to avoid being prey for Tsavo's lions.
Kenya Wildlife Service assistant director Robert Obrein was reported to have told workers in the area: "(The Company's) camp is in the area where the notorious man-eating lions that were responsible for the deaths of a number of workers who built the Kenya-Uganda railway in 1898 roamed. It is also near Tsavo River where other big cats such as cheetahs and leopards come to drink water."
The Lions of Tsavo became famous in 1898, when a team of Indian builders were attacked by two Lions while building a bridge over the River Tsavo. The two Lions went on a rampage for a number of months, and were estimated to have killed 135 workers. The person in charge of the construction, Lt. Col. Patterson, finally killed the two Lions in December 1898, a good ten months after they started their killing spree.
The Lions have featured in a number of films, the most notable being "The Ghost And The Darkness" which stared Michael Douglas and Val Kilmer.
-the-newshub.com