This is not a 'nusu mkate' government, Uhuru tells Raila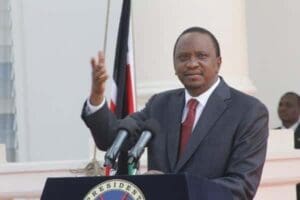 PRESIDENT Uhuru Kenyatta has told off Cord Leader Raila Odinga for criticising the government saying this is not a coalition government.  Kenyatta told Raila that he should realise this is not a government of 'half loaf of bread' but a government which is committed to serving its people.
Speaking in Nyeri town on Saturday evening after attending a beatification ceremony at Dedan Kimathi University in Nyeri County, Uhuru said he will not be disturbed by Raila in the same way the former Prime Minister used to disturb Retired President Mwai Kibaki.
"We know there are those who are always making noise and complaining about this and that. We are used to this. He should know that this is not a government of 'nusu mkate. Our government is about uniting all Kenyans," he said.
After unveiling a plaque for Sister Irene Stefani 'Nyaatha' in the town, the President who was accompanied by his deputy William Ruto made it clear that the Jubilee government is not about empty politics.
" We are united to fight al Shaabab in order to allow freedom of worship. We shall also work with the county governments to improve the welfare of wananchi," he added.  He said programmes like Okoa Kenya and Pesa Mashinani are unnecessary.
"Let Raila first show us what he has done with the money he has held before launching other programmes which are unnecessary," he added.
Uhuru said the government is considering lowering the power tarrifs so that more people can have access to electricity.  "Initially we had 8,000 primary schools connected to power but today 18,000 schools have power. We are only left with 2,000 schools. We want to ensure all children learn in the same environment," he added.  Ruto called all small parties to merge and join JAP party saying this will ensure tyey are elected in the 2017 general election.
"We don't want those dividing Kenyans since we only have one President. The time for empty politicking is long gone. We want Kenyans to put us on a score card after five years," said Ruto.
Nyeri governor Nderitu Gachagua called upon the government to help the county get market for tea and coffee while Nyeri Senator Mutahi Kagwe called for unity among leaders.  Nyeri women Rep Priscilla Nyokabi called upon the Uhuru to bring more investors to Nyeri town now that the area has electricty.  Mukurwe-ini MP Kabando Wa Kabando said those criticising the government will be defeated since Uhuru and Ruto will not be weakened by unnecessary noises.
– the-star.co.ke