The politics of Raila, Kalonzo perks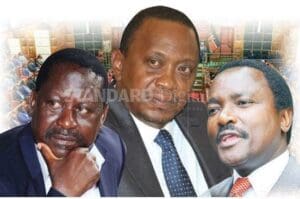 While the move by President Uhuru Kenyatta not to grant retirement benefits to rivals Raila Odinga and Kalonzo Musyoka may be politically prudent, pundits warn the President may well have handed himself a hanging rope.
The import of the President's action – if it holds – is that going forward, a President and his deputy will forgo full benefits of their retirement, if they remain active players in politics.
Unlike Raila and Kalonzo, for instance, who are aged 70 and 62, respectively, if Uhuru fails to recapture the presidency in 2017, he will be aged 56. And if he manages two terms, he will bow out at 61 – still younger than Raila and Kalonzo today.
The crucial question then for Uhuru and his lieutenants is whether he is ready to leave office "that young" and completely stay out of politics. Is it practical that at just 56 or 61, the Jubilee Alliance Party (JAP) leader would willingly vanish from the political scene? Alternatively, is the President prepared to forgo his retirement benefits?
Dr Richard Bosire, a political scientist, hopes the President's decision was not persuaded by selfish short-term political gains. If that is the case, Bosire warns the move could boomerang on Jubilee leaders. "Some people in this country make rules thinking they are doing so for other communities or individuals, forgetting the same knife will cut them at some point. How, for instance, do you expect Uhuru to keep off politics after leaving the presidency at 56 or 61?" poses Bosire, who teaches at the University of Nairobi.
The National Alliance (TNA) chairman Johnson Sakaja is equally concerned: "You don't expect the President not to campaign for his successor. We cannot be shooting ourselves in the foot."
But JAP vice chairman David Murathe says Uhuru's retirement age is not and was never an issue. Uhuru, says Murathe, set his eyes on the presidency much earlier at the age of 40 in 2002. Had he been elected then, he would have probably served until 2012 and left office aged 50. "The President's retirement plan is intact and it has been on card for some time. Now that he will retire even much later than initially envisaged, his retirement plans are more concretised," says Murathe.
Noting that Raila is a wealthy businessman, the former Gatanga MP claims it is the CORD leader and his supporters playing politics on the retirement issue. "I honestly do not think this noise by the CORD brigade is about handing Raila Sh800,000 a month. The noise being orchestrated by the Opposition is purely for political reasons – to paint the President as belligerent and afraid of political contest," says Murathe.
Other factors
However, according to Sakaja, the politicians may be fighting over nothing. The President, says Sakaja, has referred the Bill back to Parliament on account of factors other than compelling Raila and Kalonzo out of politics. He says there is need for the Bill to accommodate other officials of government like former Vice Presidents and Speakers of the National Assembly with a clear time cut-off. Otherwise, the TNA boss says it will be naïve on the part of the President's lieutenants to imagine the best way of winning the next elections is by forcing Raila and Kalonzo to keep off politics. "Article 38 of our Constitution guarantees civil and political rights for every Kenyan and pension cannot be a limitation to that right," says the Nominated MP.
Although the President is yet to give official communication to the National Assembly stating why he has not assented into law the Retirement Benefits (Deputy President and Designated State Officers) Bill, the retirement debate has taken a political dimension.
Yatta MP Francis Mwangangi describes such a move as an act of political cowardice: "If Jubilee strategises well, I am sure they can win the next elections with a clear majority of even 60 per cent. But they are now making a public admission that Raila and Kalonzo are a big political threat."
Noting that Raila and Kalonzo remain strong players on the political scene, Bosire says the thinking of the strategists of Uhuru and his deputy is to coerce the CORD leaders into dropping their presidential ambitions. If this were to happen, Bosire says Kenya will be plunged into deep slumber as Uhuru and Ruto will take a back seat and only wait for re-election.
But Murathe says Uhuru has nothing personal against Raila or Kalonzo. His actions, says the JAP boss, are based on the principle of the law: "Retirement benefits are just that. They are benefits meant to cushion those who have retired from the game, and not payouts for those still active with an eye on the next electoral seat."
Meanwhile, ODM chairman John Mbadi, who sponsored the Bill, says Parliament still awaits official memorandum from the President on why he referred the Bill back to the House. "While I cannot speculate on the reasons for his action, this is not the first time this retirement debate is taking a political dimension. It is wrong to attach a piece of legislation to individuals as this is done for posterity," says Mbadi.
"Jubilee must stop frustrating this legislation on account of politics. But even if we were to base this argument on politics, then Raila ought to be remunerated well because judging from the last polls, nearly half of the taxpayers voted for him. It is not only Mwai Kibaki's or Uhuru's supporters who pay tax," retorts the Suba MP.
Regretful move
Mwangangi terms the entire development as regretful. He points out that there are many politicians in Parliament today who served as civil servants and in the Judiciary, who are earning salaries but still drawing pension from the taxpayers.
"We are being totally unfair to the CORD leaders by playing politics on what rightly belongs to them. Even the pension we are talking of cannot cater for a presidential campaign," says Mwangangi. Sakaja concurs: "Love or hate them, these two gentlemen have served this country in senior capacities and they deserve their retirement package."
Bosire on the other hand terms the apparent linking of retirement benefits to political activity as outrageous and odd. And he offers examples of Israel Prime Minister Benjamin Netanyahu, who was in and out of government, and enjoyed all benefits before returning to power.
Bosire also cites the instances of America's decorated soldier John McCain, who retired from the army to join politics, and Tanzania's former premier Fredrick Sumaye, who is lobbying to contest for presidency in next year's elections. According to Bosire, the Bill in question was not properly conceptualised. He argues the notion of quitting politics does not make sense at all.
"Politics is our way of life, and it involves a wide range of day-to-day activities including even seeking appointment in a school or church committee and commenting on national issues. It is quite difficult to implement a rule that curtails people's freedoms to this extent," he says.
-standardmedia.co.ke