Raila Odinga says Mass action over gender rule was a joke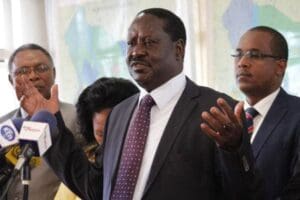 Cord leader Raila Odinga has said the call for mass action over the two thirds gender rule debate should not be taken seriously.
"The issue of mass action was a joke which was blown out of proportion. The first line of action would be moving to court," he said during an interview on Citizen TV on Wednesday.
During a visit to Bondo on Saturday, Raila said Cord would rally women in mass protests should the state fail to fully implement the gender rule by the August 27 deadline.
He said the gender issue was one Cord wanted to solve through the Okoa Kenya referendum whic was launched in April.
Raila added that affirmative action was included in the Constitution as a solution to the marginalisation of women.
"We should reduce the number of constituencies to 210 and reserve additional seats that women can take to ensure the gender rule is attained," he said.
Raila said campaigning for women was difficult as men still had an unfair advantage.
"The risk of nominating a woman in your strongholds is that a popular man will move to a rival party and get elected," he said.
On April 17, Justice and Legal Affairs committee chairman Samuel Chepkonga tabled a motion seeking to suspend the implementation of the gender rule.
His sentiments were echoed by National Assembly Speaker Justin Muturi who proposed the abolition of women's reps seats with a view to dealing with the dilemma.
– the-star.co.ke