Audio:A Maasai Moran raises the bar with 500 cows for Malia Obama's heart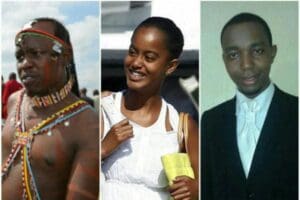 Malia Obama's second Kenyan suitor has surpassed lawyer Felix Matagei's offer of 50 cows with one of 500.
Jeff ole Kishau, a moran, said he is in love with US President Barack Obama's daughter and sought the opportunity to take care of her.
"She is very beautiful, nice and cute. I am not able to sleep at night, I love Malia Obama very much. I do not know good English but I know that I love her," he said.
"I am old enough to have babies but she will know my age once we get married. I will give the family 500 cows and sell all my Maasai lands just to win her."
He spoke to the Star on Tuesday during the eco-manyatta launch in Suswa.
Kishau, who hails from Narok county, said he will send the money from the sale of his pieces of land to Obama if he is given his phone number.
He dismissed Matagei's offer, which included 70 sheep and 30 goats, as a sign of bad luck.
Matagei, a student at Oxford University, offered the livestock to the First Family in order to fulfill his "dream of marrying Malia."
"I have never fallen in love with any minor, I only like the first family. My Kalenjin customary law is consistent with justice and morality," he said on his Facebook page last Thursday evening.
He however said his interest in Obama's daughter began during the US presidential campaign in 2008 when she was just 10 years old.
On March 31, a woman asked him to withdraw the offer saying she has always been "fascinated" by him.
Ann Kioko, 27, said she has followed Matagei on Twitter and sent him a friend request on Facebook which he is yet to accept.
In a letter to the lawyer, Kioko said she was impressed by his good looks that she said other men lack.
"I took time to go through your pictures. I got smitten by one in which you have some good-looking, seemingly designer lipstick on,"she said.
– the-star.co.ke