Baringo police given shoot-to-kill order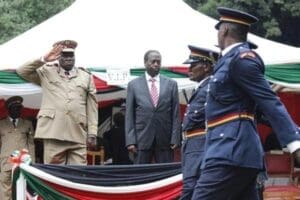 Baringo County Commissioner Peter Okwanyo has issued a shoot-to-kill order against bandits, arsonists, cattle rustlers and those illegally in possession of firearms.
Speaking on Thursday during a tour of the volatile Loruk with Baringo Senator Gideon Moi, Women's Representative Grace Kiptui and the security team, he noted that violence by such people against residents would no longer be tolerated.
"I have ordered police officers to shoot anyone stealing livestock, whether in possession of a firearm or not. Also, anyone found with an illegal firearm will be shot on sight.
"We will no longer lose more people because of some few elements who do not want to reform," said Mr Okwanyo.
He also warned those responsible for the torching of houses and bandits who ambush motorists on the Loruk-Marigat road that they would be killed on the spot.
"We will not relent till these few culprits who cause mayhem are killed," he said.
The order comes in the wake of the murder of a retired chief by bandits on Sunday. Several businesses were also razed.
The 63-year-old former administrator, Wilson Chebungei, was on his way to church when he was ambushed by an unknown number of bandits who shot him when he was escorting his cattle to pasture.
The retired chief, according to residents, had been threatened by unknown people because of his vocal stance on boundary issues which are at the centre of a dispute between the Pokot and Tugen communities. He had recorded a statement at Loruk Police Station.
The bandits reportedly fled towards Kadingding village in the neighbouring Tiaty Sub-County.
Local leaders unanimously moved to quell the conflict between the communities and pleaded with residents to be calm and avoid retaliatory attacks.
"Our county is resource rich but if we continue fighting each other then we will continue lagging behind in development," said Mr Moi.
He noted that this was not the time for leaders to align themselves on tribal on political lines, but instead they should all work together to ensure peaceful co-existence among all communities.
The attack came barely two weeks after leaders from Samburu, Turkana, West Pokot and Baringo counties held a peace caravan in the region.
-nation.co.ke