Ruto visits volatile Baringo, residents snub rally over bandit attacks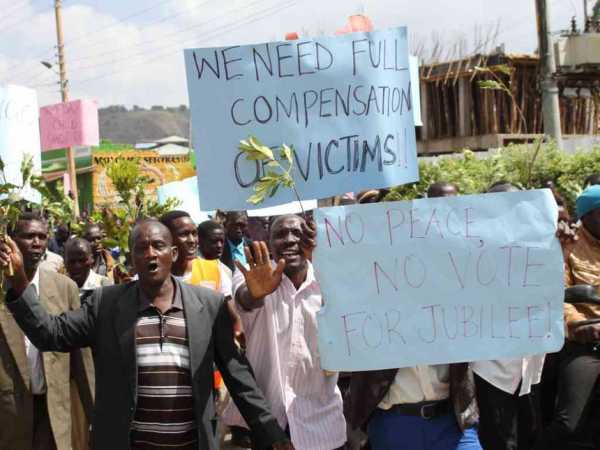 Deputy President William Ruto flew to Baringo on Friday despite disapproval by residents who said the government had failed to protect them.
Bandit attacks have persistently taken place in the county and have resulted in the deaths of many, displacement of thousands others and the closure of schools.
Ruto went to the volatile Mochongoi where he addressed a rally. He will head to Baringo North in the afternoon.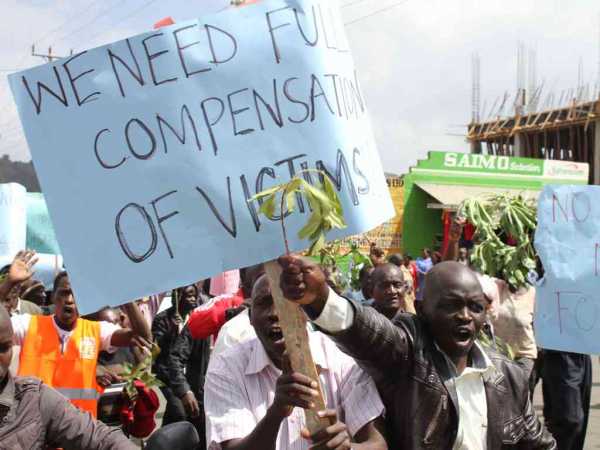 Baringo county residents during a demonstration against escalating insecurity during a visit by Deputy President William Ruto, February 23, 2017. /JOSEPH KANGOGO
In Kabarnet town, more than 2,000 residents, including 400 teachers, held a demonstration and snubbed Ruto's visit citing neglect in matters security.
They said the visit will have no impact in the area, where more than 10 people were killed in the last week.
The demonstrators said President Uhuru Kenyatta should visit the county and address the insecurity instead of "sending his junior".
"We would like the President to come in person to address this issue, failure of which we will surprise him by going to State House next week," said Knut Baringo executive secretary Joshua Cheptarus.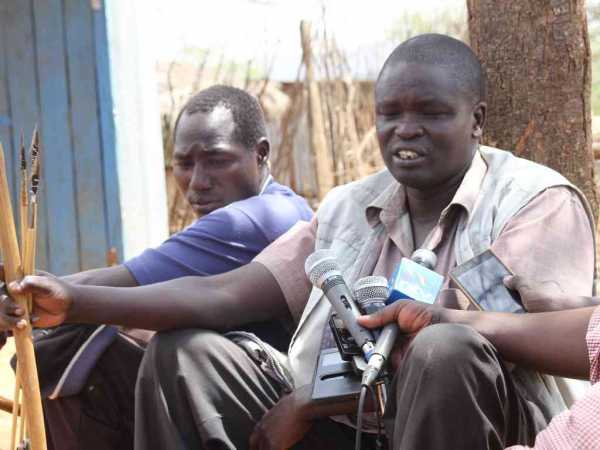 Kosile Primary School teacher William Kandie addresses journalists at Chemorongion in Baringo county, February 21, 2017. /JOSEPH KANGOGO
The people said they would attend the burial of "beloved teacher" Philemon Kipkemoi who was shot dead by Pokot bandits instead of gathering to listen to the DP.
The teacher was killed at Kapndasum Primary School in Baringo South last Monday.
A resident said tension was high in the area and that hundreds of residents had fled their homes.
Most of them are now camped at Kapkomon, Rondinin, Sibilo and Tebengar while more than 800 were in Mochongoi and Kabel in Baringo South.
On Wednesday, teacher Daniel Kangogo of Atiar Primary School was killed while herding his animals at Chepkesin in Baringo North.
"It is very unfortunate to see the killing of a harmless teacher who has only chalk and a pen" said the executive secretary.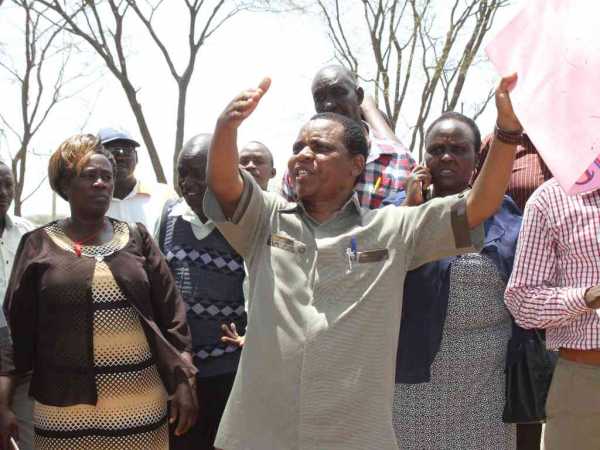 Knut Baringo executive secretary Joshua Cheptarus addresses the media concerning insecurity in Baringo county during a visit by DP William Ruto, February 23, 2017./JOSEPH KANGOGO
The protesters walked to Governor Benjamin Cheboi's office but the gates were locked before they got in.
They were also unable to meet county commissioner Peter Okwanyo and waited in vain at Kabarnet Museum grounds where they had been told leaders would address them.
The protesters waved placards and chanted "We need full compensation of victims", "Stop aggression now" and "Arrest Kamket and Kamama for incitement".
They also chanted "Breastfeeding mother shot dead with her three-day old child", "Quick and urgent disarmament", "divisive politics out", "Say no to dictatorial expansion" and "Kamama must step aside"
The mother and child were killed at Natan as others ran away from bandits.
Asman Kamama, who is National Assembly Security Committee chairman, denied fuelling animosity between the Pokot and Turkana communities in Baringo county.
Joseph Kandie, director of Kisii University Kabarnet campus, and other professionals joined the protesters saying university students had also been affected.
"Majority of our students from Baringo North and South have not been in school for two weeks now," he said, and urged the government to take action.
Among schools that have been closed as a result of the chaos are Ngaratuko, Chemoe, Yatya, Tuluk, Kagir, Loruk, Chepkesin, Kapturo, Toboroi, Barsuswo and Lokorotabim in Baringo North.
Others are Ramacha, Karma, Katilimwo, Kapndsum, Chemorongion, Embosos, Arabal, Chebinyiny, Sosionte, Nyimbei, Kasiela, Keon, Tuiyotich, Lamaiwe, Karne and Kabel, Rugus, Noosukro and Siarata in Baringo South subcounty.
Cheptarus asked teachers to stay away from learning institutions due to the insecurity.
More on this: 30 schools closed, two teachers killed as Baringo bandit attacks intensify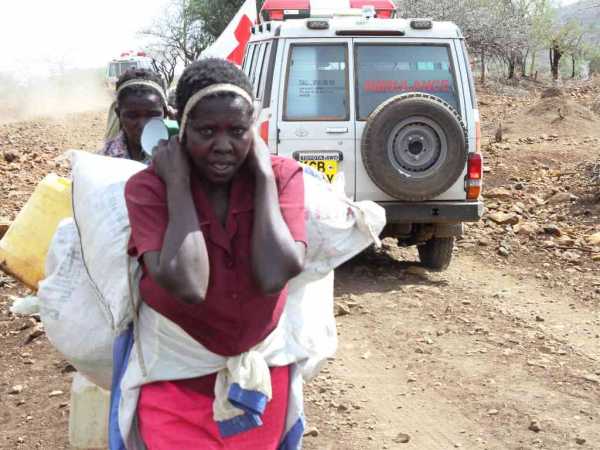 A woman who was among more than 2,000 residents who fled Nyimbei, Baringo South, after armed Pokot bandits fired shots and torched their houses, February 22, 2017. /JOSEPH KANGOGO
Political leaders in the area have expressed fear that the August polls may be disrupted if security is not restored
Okwanyo, who addressed protesters in Marigat town on Thursday, asked them to remain calm as authorities seek solutions.
"We are going to use force to drive back all the Pokots grazing their animals across the borders of Baringo North and South," he said, admitting they were attacking peaceful Tugen and Ilchamus pastoral communities.
He also said the government was committed to providing enough food and water to victims of hunger.
Source Link-the-star.co.ke