Kidero demands Khalwale's apology over 'prefect of thieves' remark, Boni says he will not apologise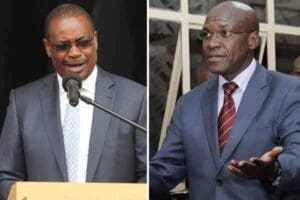 Kakamega Senator Boni Khalwale has three days to apologise for calling Evans Kidero the "prefect of thieves" or be sued, the Nairobi governor has said.
Kidero said is a letter Khalwale faces a defamation suit if he fails to apologise for his use of "malicious, false' and reckless" words to taint the governor's name during a gathering in Mumias on Wednesday.
"We have instructions to seek other incidental remedies against you without further notice or reference to you at your own risk as to costs and attendant consequences," read a letter to Khalwale from Kidero's lawyer Tom Ojienda .
"Our client demands that you immediately and unconditionally prominently publish an apology to Kidero in at least two newspapers of national circulation, in the next three days".
The lawyers said slandering Kidero was a preconceived, calculated and unjustified attack against the governor and will hold negotiations with Khalwale regarding award of damages.
However, Khalwale has refused to apologise saying Kidero should account for and return public money.
"Someone is cheating you. You must be dreaming to expect an apology haa! I serve the interests of Kakamega County. It is your responsibility to clear your name from the KPMG report. Bring it on, I'm always ready," he said on his twitter account.
On Wednesday, Khalwale said Kidero was among those responsible for the collapse of Mumias Sugar Company during his tenure as the CEO.
"On the fight of corruption I will support you, Mumias did not just die. You should pursue the criminals. The criminals who looted Mumias are led by their prefect governor Kidero, hold them accountable," Khalwale told President Uhuru Kenyatta.
He was addressing a gathering at Mumias during the handing over of a Sh1 million cheque by Uhuru, as a bailout to revive the sugar milling company.
But Kidero has denied he was responsible for Mumias woes, he has maintained he left the sugar firm in a profitable state.
– the-star.co.ke