Obama team books three Nairobi City hotels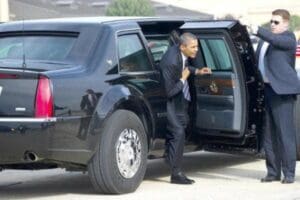 At least 500 Secret Service personnel expected to arrive with the US President as part of his security detail
NAIROBI will go into lockdown mode for days, as unprecedented security arrangements for the visit by US President Barack Obama next month kick in.
Security sources said yesterday that, on the Kenyan side, about 10,000 security officers will be deployed in Nairobi and its environs, to ensure the capital city is safe.
They will be drawn from the elite Recce Unit of the GSU, regular and Administration police, Prisons, Kenya Wildlife Service, Kenya Forest Service and the unarmed NYS.
At least 500 US Secret Service personnel are expected, some of them arriving with Obama and others already in place.
So far, officials from the US embassy and Secret Service have visited the Sankara, Kempinski and Intercontinental hotels in addition to the Kenyatta International Convention Centre as they continue to make security arrangements.
Its remains unclear how long Obama will be in Kenya or what his itinerary is. What has been confirmed is that he will attend the Global Entrepreneurship Summit that will be held in Nairobi on July 25-26.
The 6th GES is billed as the primary purpose for Obama's first visit to Kenya as President.
The Summit will be attended by world leaders and thousands of other participants, some of whom are currently being vetted.
US security agencies along with the Kenya Police and National Intelligence Service are preparing an elaborate security plan on the ground and in the air which will be strictly implemented ahead of, during and immediately after Obama's visit to his father's homeland. It will be the first time a sitting US president has ever visited Kenya.
Senior police and NIS officers yesterday told the Star that Obama's security team will take over the venues where he is expected to visit and secure the places days before his arrival and until the President's departure.
The Secret Service has also inspected Parliament Buildings and JKIA, including for an evacuation. It remains unclear whether President Obama will address a joint sitting of both Houses of Parliament.
There is also a proposal that Kenya designates a 5km radius around the venue of the Summit as a no-fly zone.
Obama will spend a night in one of three hotels already earmarked by the Secret Service.
According to Intelligence agency sources, several meetings have been held regarding security aspects, including procedures in case of either manmade or natural emergency.
As part of the preparations, President Kenyatta on Tuesday directed the Kenya Airports Authority to improve the passenger handling capacity of the International Arrivals terminal at JKIA.
The President, who toured the terminal immediately after arriving from South Africa, where he attended the 25th African Union Summit, said KAA should undertake all measures necessary to increase efficiency within the next two weeks.
The President went straight to the International Arrivals terminal after disembarking from his plane accompanied by First Lady Margaret Kenyatta.
State House Spokesperson Manoah Esipisu said in a statement that the Summit offered the country opportunities to exchange high-level views and ideas between government, global business leaders, entrepreneurs and innovators.
The Summit will also strengthen Kenya's trade ties with the US, Africa and global markets, and is likely to stimulate many more economic exchanges between Washington DC and Nairobi, he said.
The government is keen on forging and strengthening its bilateral relations with the United States to promote foreign investment and entrepreneurial innovations in this country and the broader eastern African region, and will also seek much-needed global support in the war on terror.
Esipisu said that Kenya has evidence-based learning to offer in entrepreneurship and business leadership and is also poised to benefit and learn from entrepreneurial principles that are shared across international boundaries
– the-star.co.ke