Photos:Uhuru hosts Ngugi wa Thiong'o at State House, 38 years after being jailed by Jomo's regime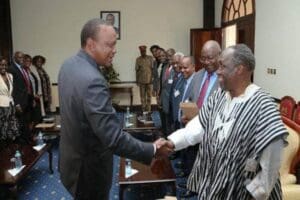 President Uhuru Kenyatta has asked author Ngugi Wa Thiong'o to "come back home" saying Kenya has transformed into a "land of opportunity".
Speaking while hosting Ngugi at State House, Nairobi on Monday, Uhuru asked skilled Kenyans to return to the country and invest in its future.
"This is not the Kenya of yesterday but a Kenya that needs all your talents. It is time for you to come back and help us build the country," he said.
"We need all Kenyans to participate in improving our society because no single person or community has the answer, but as a united group we have all the answers."
Ngugi was jailed in 1977 during Jomo Kenyatta's regime after publishing his critical play Ngaahika Ndeeda, I will marry when I want. He fled Kenya after his release by former President Daniel Arap Moi.
Ngugi urged unity saying he was happy with the changes the country has undergone and the democracy in politics.
A recent encounter with a Kenyan delegation representing Uhuru in Los Angeles proved that the government has changed its approach to citizens, he said.
"For the first time I met government officials who were not talking down at the people but seeking out and engaging with respect," he said.
"It is really a great feeling when you feel your government is recognising and acknowledging you."
Ngugi said several other experiences he has had in Kenya have shown him the changing attitude in governance.
"Draw from all the cultures of Kenya to build a leading nation. Nothing stops Kenya from being the leading nation in the world," he said.
The distinguished professor of Comparative Literature and English at the University of California urged Uhuru to promote local languages.
Ngugi, who has advocated for the teaching of mother tongue in schools, asked the President to prohibit teachers from punishing students for speaking their languages.
He said such practices were inherited from the colonialists who "wanted us to be ashamed of who we are".
Ngugi visited State House with his three sons and East African Educational Publishers board members and senior management.
The children, Mukoma Wa Ngugi (Assistant Professor of English at Cornell University, New York USA), Nducu wa Ngugi and Thiong'o wa Ngugi, are all published writers,
They presented copies of some of their books to Uhuru, while Ngugi gave him a souvenir from the 1960's.
The picture was of founding President Jomo Kenyatta and vice president Jaramogi Oginga Odinga.
It was taken in Gatundu where JOmo Kenyatta had received donations from the people of Muranga to those affected by floods in Kano, Kisumu.
Also present during Ngugi's visit were Education CS Jacob Kaimenyi and PSs Prof Colleta Suda and Belio Kipsang.