Uhuru will not force me to retire, Raila says, defends 'right' to pension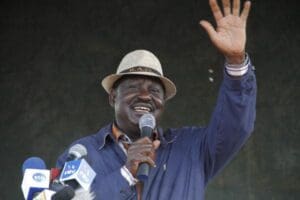 Cord leader Raila Odinga has said serving as prime minister in the last regime entitles him to his pension.
Raila said he will not bow to President Uhuru Kenyatta's "malicious" attempts to slash his benefits from the proposed Sh21.6 million to Sh14.4 million.
"You are paid pension for a job already done. I already served as Prime Minister, Kalonzo Musyoka was Vice-President. The logic behind denying us pension is flawed," he said.
"I will retire not because the President wants me to but when the right time comes. I will not be blackmailed by threats to withdraw the pension."
The National Treasury wants Raila and former Vice President Kalonzo to quit elective politics to enjoy any benefits.
Treasury Cabinet Secretary Henry Rotich has written to Parliament, opposing the deletion of a clause that bars the two from politics in the Retirement Benefits (Deputy President and Designated State Officers) Bill.
Raila said many retired state officials are earning their benefits and now wants to be given reasons why he and Kalonzo are being denied their right.
"There are people in Parliament who have retired and earn pensions. There are retired government consultants who are all on pension," he said during an interview with Nation FM.
The opposition leader reiterated that Uhuru snubbed his request for talks to resolve issues of concern to the country.
"The President said he was ready for talks. Two days later he said there is no need for talks, like a snub," he said.
On May 17, Raila said he would not "kneel down and beg" for a pension but focus on Kenyans' rights which he said outweigh financial gain.
His remarks come in the wake of Uhuru's refusal to assent to the Pension Bill.
Had Uhuru signed the Bill into an Act, it would have granted Raila a lump sum of over Sh20 million and a monthly pension of close to Sh1 million.
In the proposed Pension Bill Kalonzo, who is also a Cord co-principal, would have received a lump sum of over Sh18 million and a monthly pension of over Sh800,000.
– the-star.co.ke