Video:5-year-old girl drowns in a pool in Massachusetts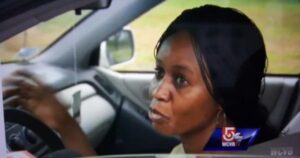 METHUEN, Mass. —Police in Methuen say a 5-year-old child has drowned after falling into a covered, backyard swimming pool.
Methuen Police Chief Joseph Solomon said a 15-year-old babysitter was watching the child, who was reported missing from the Russell Street home early Sunday afternoon.
Solomon said it appears the child went outside and fell into the in-ground pool after stepping on its cover.
"Police officers were searching with poles and a couple of firefighters went into the water," Solomon said. "They continued searching piece by piece, swimming up getting air and then going back down."
A dive team was called to the scene to inspect a pool in the yard, according to police. Before the dive team arrived at the scene, a firefighter found the girl in the pool.
The child was pronounced dead at Lawrence General Hospital at about 2:30 p.m.
The pool was covered, had debris in it and had not been used for several years, according to police.
Ron Desrocher, a neighbor, called police soon after he heard his neighbors start screaming.
"She was screaming and jumping, and then she was sitting down trying to get in and we were trying to hold her back," Desrocher said.
A Methuen firefighter had facial injuries after slipping on the pool stairs.
Methuen police and state police assigned to the Essex district attorney are investigating.
-wcvb.com