Boy under The Kenya Airlift Program Scholarship Score A- in 2022 KCSE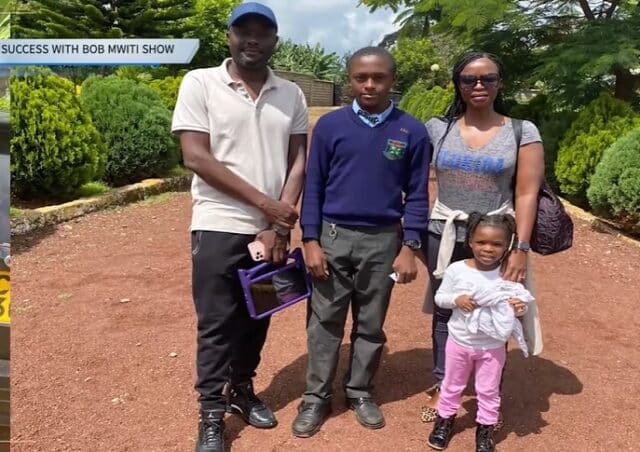 Alistair Murimi is a shining star who grew up in a humble background in a small village in Mbeere. Growing up, the brilliant young boy had a great share of challenges that almost cut short his academic journey.
When Bob Mwiti came across his story of struggle trying to raise finances to join Nkubu High School after posting exemplary results in KCPE, he came in handy and granted him a full scholarship up to the university level through The KENYA Airlift Program.
In the KCSE 2022 results released earlier today, Alistair Murimi has done exemplarily well by scoring A- of 75 points.
Bob Mwiti, the founder of the program is proud of the bright boy and has promised to give him a job in the program as he studies his undergraduate degree in Kenya, after which the program will fully support his master's in USA.
This award-winning program seeks to help brilliant Kenyan students pursue graduate studies in North America regardless of their financial background.
The underpinned video shows the moments when Bob visited Alistair at their humble home in Embu.
For more inspiring content about studying, living and working in USA, please subscribe to the YouTube channel . To learn more about the program please visit www.kenyaairliftprogram.com.
The KENYA Airlift Program (KAP) is an award-winning initiative that helps brilliant Kenyan students achieve the dream of studying in the US regardless of their financial background.
We only accommodate ambitious, and incredibly talented Kenyans who are willing to take a leap of faith in joining the tech industry by studying STEM or business-related master's programs. One can join us with ANY undergraduate degree major.
The KENYA Airlift Program was founded in late 2018 by Bob Mwiti and Hon DMK Kiogora. The organization helps brilliant Kenyan students achieve the dreams of studying in the North America regardless of the students' financial background. This mission is achieved through Key partnership with MPOWER Financing as the official lending partner for unsecured student loans that cover both tuition and living expenses, partnership with Universities in North America where the organization negotiates tuition fee waivers, and partnership with The Airlift Sacco to help finance student's relocation expenses-https://www.kenyaairliftprogram.com/
Boy under The Kenya Airlift Program Scholarship Score A- in 2022 KCSE