Obama nude protest called off after State House phone call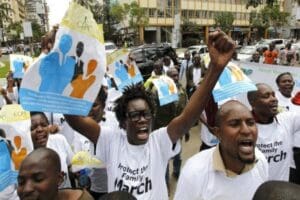 A nude protest against homosexuality did not take place on Wednesday following a call from State House, its organiser has said.
The protest has been postponed, Republican Liberty Party leader Vincent Kidala said, adding he was forced to cancel it in a 2am phone call.
"The caller said President Uhuru Kenyatta is not planning to discuss gay rights with US president Barack Obama and that he is against gay rights," he told the star on phone.
Kidala claimed the national security committee also cautioned against the protest in another phone call.
"The unidentified caller said protesting would be like pushing for a terror attack. He said they have terror alerts and would not want to take chances," he said.
Kidala said the protesters will be on stand by in case Obama talks about gay rights during his three-day visit for the 6th Global Entrepreneurship Summit.
By Tuesday, some 3,600 people had reportedly registered to take part in the protest aimed at showing Obama the differences between a man and a woman.
Kidala said the number included people who had officially signed up and those who had given their word.
"We expect 1,000 women and 4,000 men but we will be happy if the number increases," he told the Star on phone.
"So far we have at least 100 people per county. We are receiving massive pledges from individuals requesting to register with us."
The Star could not confirm the registration of the 3,600, for the demonstration set for Wednesday and Thursday, ahead of Obama's arrival on Friday.
On July 14, the party sought permission to hold the nude protest after the US Supreme Court legalised gay marriage in all 50 states.
– the-star.co.ke