"Obama is an Unintelligent, Immature Junior Senator from Illinois" Alfred Mutua Must Be Biting His Nails Now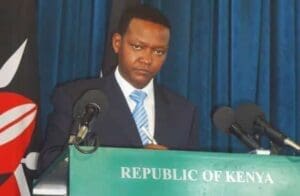 We all have said things we would gladly take back. One guy in such a situation right now is Machakos Governor Alfred Mutua.
Back in 2006 when he was the government spokesman, Mutua was angered by Obama's comments on corruption in government. During his weekly press briefings, Mutua called Obama 'a junior senator from Illinois who is yet to mature'.
"It is now clear that he was speaking out of ignorance and does not understand Kenyan politics. We earlier thought he was mature in his assessment of Kenyan and African politics."
"But we forgive him because it is his first time in the senate and he is yet to mature into understanding issues of foreign policy," he said.
He also branded him an opposition puppet.
"It is very clear that the senator has been used as a puppet to perpetuate opposition politics, which is very shocking because he is supposed to be an intelligent man," he said.
In a speech televised on live TV from the University of Nairobi, Obama had rebuked Kibaki's government for failing to address graft.
"The freedom that you fought so hard to win… is in jeopardy," he said to applause from the crowd.
"It is being threatened by corruption."
"Here in Kenya, it is a crisis, a crisis that is robbing an honest people of the opportunities that they have fought for, the opportunity they deserve," he added.
Nearly a decade later, the dynamics have changed. Obama is serving his second term as the most powerful man on earth, while Mutua has not done badly either, but still not yet fit to wash Obama's feet.
– nairobiwire.com