President Obama guest list still secret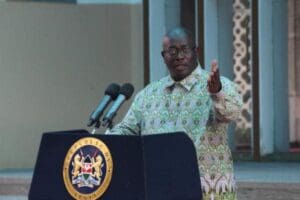 The government is closely guarded on details of Heads of State who will attend the Global Entrepreneurship Summit in Nairobi.
Only the attendance of US president Barrack Obama and his Kenyan Counterpart Uhuru Kenyatta, who will jointly co-hosting the Sixth global Summit, has been confirmed.
State House Spokesman Manoa Esipisu on Sunday told a press conference in Nairobi that preparations for the fortnight away conference are on top gear with preparatory invents underway but failed to divulge any details of invited guests.
"We are expecting a host of leaders in government and business from across the world and indeed from the region," Esipisu said without elaborating.
When pushed by journalists to reveal details of the personalities who will attended the first ever summit to be held in Sub-Saharan Africa, Esipisu retorted: "I have no specific information on who might and who might not attend."
He said the government will, at an appropriate time communicate details of the arrangements agreed 'between ourselves and our guests' saying although Obama 'is hardly' a guest.
There have been speculations about the list of presidents invited to attend the summit after unconfirmed information leaked that Uhuru was keen to have all East African Community Heads of State attend the much hyped global event.
Esipisu said the number of investors from America and across the world are already in the country for as part of the pre-summit investment engagement with the government.
– the-star.co.ke