Lamu MP Julius Ndegwa's car impounded with bhang, heroin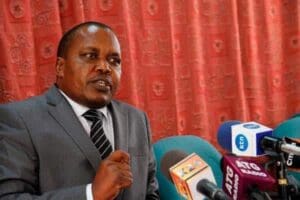 POLICE in Witu division, Lamu West, have impounded a lorry belonging to Lamu West MP Julius Ndegwa ferrying bhang into the county.
Confirming the incident, a police chief who did not want to be named said the Mitsubishi Canter was impounded by officers manning a roadblock at around 9am yesterday.
Police recovered 390 rolls of bhang and 24 sachets of heroin.
The street value of the bhang is estimated at Sh150,000.
The vehicle was ferrying the narcotics from Mombasa to Lamu before suspicious police officers decided to flag it down and conduct a search.
The officer also confirmed that all the occupants of the vehicle were arrested, including lorry driver Martin Njuguna, loader Kahuki Kanyinge and a man suspected to be the courier of the narcotics, Joseph Gathunga Mbugua.
The three are being held at the Mpeketoni police station as they wait to be charged at the Lamu courts.
The officer confirmed to the Star that the narcotics did not belong to the MP but were suspected to belong to Mbugua.
Speaking to the Star on the phone yesterday, Ndegwa called for the prosecution of all three, saying the incident had cast his name in a bad light both as a leader and a businessman.
He said no one had the right to engage his lorry in criminal activity and that the police should conduct thorough investigations and charge the suspects.
"They should face the law. Being a leader who has been in the forefront in the fight against drugs, it's unfortunate that my vehicle is involved in such a mess. That is a vehicle that is to be hired for legal businesses and not this criminal work. Let them be charged so that others can learn from that," said Ndegwa
The MP is currently facing corruption charges pressed against him for allegedly withdrawing Sh1.6 million in CDF money.
Ndegwa, who denies the allegations, said he was confident of coming out unscathed since he is clean.
– the-star.co.ke