Uhuru offers internship for Wings to Fly students after studies abroad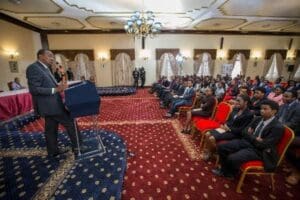 Internships in various state departments await beneficiaries of the Equity Bank Wings to Fly scholarship when they complete their studies abroad.
President Uhuru Kenyatta asked Head of Public Service Joseph Kinyua to ensure the graduates are placed in the departments when they return.
Uhuru said the government is implementing policies in favour of Kenyans ready to come back after studies abroad.
The measures, he said, include setting up the Diaspora Liaison office and posting all vacancies in public institutions online for transparent recruitment.
Uhuru assured that the government holds youths in high regard and will continue implementing programmes for their empowerment.
He spoke at State House, Nairobi, on Thursday, when he hosted a group of beneficiaries to a farewell breakfast, ahead of their departure for various international universities.
The president said the students will return to serve their country and be part of its transformative agenda if they remain determined.
"Remain committed to the ideals that brought you this far despite challenging backgrounds," he told them.
"Get international experience and come back home to implement the positive lessons learnt."
Uhuru asked the students to change the international community's perceptions about Kenya by being good ambassadors
He urged them to observe integrity and shun activities that will have no bearing on their livelihoods.
Equity Bank Chairman Peter Munga asked the students not to waste the opportunity.
First Lady Margaret Kenyatta wished the students well saying; "Together we can create a better Kenya."
Student representatives assured Uhuru that they would come back after their studies abroad to contribute to the country's development.
– the-star.co.ke