Dr chiuri, A Business Developer Introduces KUP At KESSA Conference
Dr chiuri, A Business Developer Introduces KUP At KESSA Conference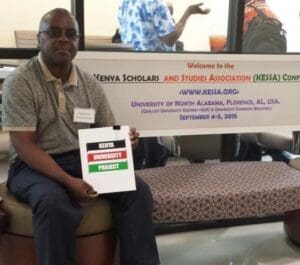 Dr. Robert Chiuri of Columbus, OH introduced Kenya University Project (KUP) to scholars who had gathered at the University of North Alabama in Florence, Alabama for the Kenya Scholars and Studies Association (KESSA.) Dr. Chiuri is currently developing the KUP Business School Plan. "Kenya's Economic growth, challenges and opportunities were revisited and KUP anticipated contribution," said Dr. Chiuri of his introduction of KUP goals to the participants at the conference.
"Several PhD holders immediately expressed they would like to be part of the project as Institution and property developers," said Dr. Chiuri. Prof. Phillip Masila Mutisya of North Carolina University confirmed his interest. Prof. Mutisya also participated in the KUP teleconference that coincided with the second day of the conference.
Dr. Wilson Endege of MA, the Executive Founder of KUP, welcomed the scholars. Dr. Daniel Kimethu of OH who is developing the faculty and has talked to over 60 PhD was also happy. He says, "The goal is to get to 50 Diaspora PhD holders who will start the Institution and give back to the country through education."
Bishop Donald Mwawasi who was on Mombasa road travelling back from Voi and had dialed into the teleconference to update on the resource development was also happy to hear of new Diaspora scholars who are joining to participate in the development of Kenya. "That is exciting news," said Bishop Mwawasi.
Kenya University Project is currently developed through a Master Development Plan that will lead to an institution and a settlement development. The plan traces its roots from two ideas that started in the mid 2000's and were later merged to become the Kenya University Project that has three stages of development. Nine primary resources, 5 year development plan and Year 6. The project developers are currently completing the 9 primary resources development so as to start the 5 year development plan that will achieve a 10,000 student's institution and 30,000 resident's town by end of year 5.
Just like Dr. Chiuri is doing, Diaspora professionals in diverse fields are working on the KUP plans to be implemented. The plans include: Institution Plans, Design-Build Plans, Medical Hospital Plans, Property Developer Plans, Diaspora Plans and others. The project is anticipated to be the biggest project ever done by any Diaspora community from Africa with a goal to advance their home country. Dr Chiuri is on record stating the Business school approach he and other scholars will implement will contribute toward the Gross Domestic Product (GDP) of Kenya expansion from a $50 billion to $500 billion GDP by the year 2030.
Dr. Chiuri says the Kenya Government representatives attending the conference welcomed the project. They included: Ambassador Prof. George Godia, Kenya Permanent representative to UNESCO; Deputy Commission Secretary/CEO Kenya Commission for University Education, Dr. Eusebius Mukhwana; Chairman of HELB, Dr. Ndegwa Wachira; CEO of HELB, Mr. MugambiNdegwa of HELB and other officials. "They all had favorable comments and requested that we engage them further as we continue with KUP Institutional plans," said Dr. Chiuri.
The KUP Business School Developer, Dr. Chiuri, also engaged KESSA leadership Prof. Kefa Otiso, Prof. Francis Koti, Prof. Manyara, Prof. Jerono, Prof. Faith Maina and Prof. Christine Mathenge. As a KUP developer he looks forward to continue collaborations with KESSA through networking strategies that will lead to advancement of education in Kenya and Kenya economic growth.
PhD holder interested to be part of KUP Email Dr. Kimethu [email protected]
-jamhurimagazine.com
Dr chiuri, A Business Developer Introduces KUP At KESSA Conference