Kikwete assures Uhuru that Magufuli, Raila friendship won't hurt ties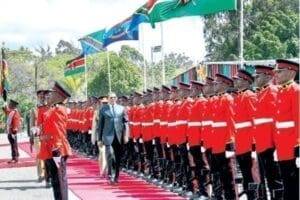 Tanzanian President Jakaya Kikwete yesterday allayed fears that his preferred successor, Mr John Magufuli, is likely to work closely with Cord if he wins the elections set for October 25.
Mr Kikwete, who is on a three-day visit to Kenya, used his meeting with President Uhuru Kenyatta to assure him that Dr Magufuli, the Chama Cha Mapinduzi (CCM) candidate, would work with the Jubilee administration in spite of being a good friend of Cord leader Raila Odinga.
Sources close to the Presidency said the assurance was made following reservations by State House on how it would relate with the CCM candidate, who is vying to succeed President Kikwete in the elections that will take place in 19 days.
"President Kikwete explained that the friendship between Dr John Magufuli and Mr Raila Odinga will not influence how the Tanzania Government relates with Kenya after the elections," said the source.
There have been fears in Kenya's diplomatic circles following the nomination of Dr Magufuli, and not former Prime Minister Edward Lowassa, as the CCM candidate.
Mr Lowassa defected to the opposition and is now the Umoja wa Katiba ya Wananchi candidate, who is giving the CCM flag bearer a run for his money.
Following the nomination of Dr Magufuli, Mr Odinga flew to Dar es Salaam, where the two held talks on July 19.
However, President Kikwete yesterday said the friendship should not be allowed to affect the relations between the two countries.
Mr Kikwete said his own friendship with former Vice-President Kalonzo Musyoka had not prevented or affected his closeness with the Kenya Government.
"He said Magufuli and Raila knew each other while they were Roads ministers," said the source.
The Tanzanian President is understood to have said that relations between Kenya and his country were deeper and could not be affected by the conduct of individuals.
-nation.co.ke