CHILDREN'S HOME FROM HELL WHERE DIRECTORS SLEEP WITH UNDERAGE GIRLS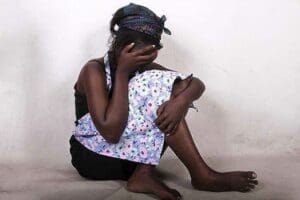 Two minors at a Kayole-based children's home say the institution's director allegedly cohabited with one of their colleagues, a Form Three girl, for many months until July this year when members of the community reported him to the police.
They also say a Standard Six girl had to flee from the home in March after the director's brother summoned her to his room one Saturday morning and stayed with her behind a closed door for more than two hours.
"As she left the house, we asked her what was wrong. She said that [name withheld] had given her Sh50. We asked her what he had done to her and she started crying, saying she was leaving," one of the minors told Nairobi News.
Welcome to the House of Peace Children's Home, an institution whose story puts to question the implementation of laws currently in place to protect children living in charitable institutions.
Currently hosting 25 minors, House of Peace is, according to the two children who spoke separately to the Nairobi News, a place no child would wish to be in if they had an alternative.
ADMINISTRATOR'S HOUSE
They said some of their colleagues have had it so rough that they have had to walk out to the unknown, citing the example of the girl who was holed up at the administrator's house for more than two hours under the guise of "folding clothes".
The most recent child to quit the institution, we were told, left last Sunday after being flogged more than 50 times with a plastic pipe. Reason? He was accused of stealing a memory card.
"He (the director) has a pipe with which he beats up people," said a girl at the facility.
A woman who has been a volunteer at the institution, who asked not to be named for fear of reprisals, had a curious observation about the disciplining methods employed by the home's director, identified as Duncan Odhiambo.
"Sometimes he can come and say he is not in good moods…then he starts beating up children; both boys and girls. Once he beats up the kids, they don't eat — all in the name of punishment. You can get kids spending the whole night washing the building or doing something else. They are not given food. A child will go to school without eating anything," she said.
Mr Odhiambo promised to give his side of the story last Thursday morning. However, we could not make any further contact with him as he has disabled incoming calls to his line from around 11 a.m on the material day. He was still offline by the time of going to press.
COHABITING WITH GIRL
He is accused of cohabiting with a girl who was later transferred to another childcare facility. According to locals, he separated her from the rest of the girls in the facility and lived with her as man and wife even as she attended studies.
Mrs Lucy Mugo, the principal of Kayole South Secondary School where the girl was studying before she was transferred, said the girl confided in her that she had indeed slept with Mr Odhiambo on numerous occasions.
The girl, however, refused to be examined by a government doctor.
According to Ms Kellen Karanu, the national director of children's services, the Nairobi County children's office is aware of the alleged defilement but nothing much can be done as the girl refused to report the matter officially.
Ms Karanu told Nairobi News that she was still gathering information on the children's home and that she would have a complete report later.
Another issue raised about the facility are that it lacks a board of directors to oversee its operations in accordance with a best practice document released in 2013 by the government and the United Nations Children's Education Fund.
FOUNDER DEAD
We have gathered that it was founded by a Mrs Eunice Akinyi who died in 2010. After her death, her sons took over its operations. Mr Odhiambo, the current director, is 25 years old and he is Mrs Akinyi's fifth born, according to an insider.
Those around House of Peace also question why the building housing the children has no demarcations to separate boys' and girls' sleeping areas. The 13 boys inside sleep on the ground floor while 12 girls sleep on the first floor.
"How can you put young girls and boys together for a whole night?" asked a woman who asked not to be named.
Other concerns are that the facility is not connected to the electricity grid and that children are not allowed to communicate freely with their friends.
According to Ms Karanu, the children's services director, Nairobi county officials had ordered the home to be closed in August after inspection revealed that it was not fit to be registered.
"The owners were given a notice to close it and there were plans to reunite children at the facility with their parents or guardians or look for alternative homes. The officials do not know if the home had complied with the set standards," Ms Karanu told the Nairobi News by phone.
According to regulations governing charitable children's institutions, which were gazetted in 2005 and which are anchored in the Children's Act, it is a crime to subject housed children to corporal punishment.
The regulations also say children should have an ample room for studies and not restrict contact with parents, guardians or friends.
-nairobinews.nation.co.ke