Revealed:Godfather of Kenyan comedy,#Churchill was once 'homeless'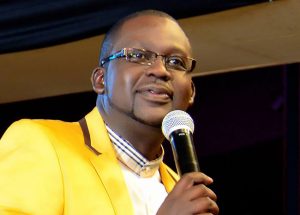 When you see him in the glare of the spotlight, it is difficult to believe that the godfather of Kenyan comedy, Churchill, once lived a less glamorous life.
But the truth is far from that perception, as celebrated Papa Shirandula actress Wilbroda reveals.
Wilbroda, whose real name is Jacqueline Nyaminde, says that the struggle was real when Churchill was starting out his career. In those days, a homeless Churchill used to sleep at the Kenya National Theatre after he had concluded his performances.
"He (Churchill) would sleep at the facility after a whole day of toiling – and it's not like one was assured of an acting slot. We were only hoping to be assigned support roles in a play – and there was no payment for it," added Wilbroda.
Churchill, who recently celebrated 15 years in the industry, has come a long way. Not only does he host a radio and television show, he also holds numerous events across the country.
Speaking exclusively to Citizen Digital, the veteran actress said that life was tough when most industry giants started out.
"I joined the industry in 1998. We have come a long way! I see the hand of God in our acting journey. People look at me, and they only see the five years of success – they don't see the ten years of hustle," said Nyaminde.
So what is the secret source of success when it comes to acting?
Nyaminde singles out perseverance: "People who stayed in the industry had the passion and the determination. We said we would fight the hardship head on. Look at Jalang'o, Otoyo, Churchill – they all started their career at the theatre. But look at them today – it's unbelievable!"
As with many industries, success comes at a price. What price did she pay to get to where she is today?
"I would walk from home to the theatre without necessarily knowing what I was going to do there. I would eat nothing the whole day, and in the evening I would walk back home on an empty stomach. I had no energy, but life had to continue," recounts Nyaminde.
Wilbroda's advice to up-and-coming acting talents is simple: "I now see young actors and actresses in the industry really struggling to break through. I'll admit – each time I see them hustle hard, I tell them never to give up – we are living testimonies."
-citizentv.co.ke