Kenyan student among speakers at Frostburg State University's 147th Commencement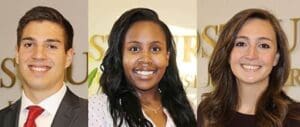 Frostburg State University celebrates the achievements of the fall 2014 graduating class with the 147th Commencement ceremony on Saturday, Dec. 19. The ceremony for the colleges of Business, Education and Liberal Arts and Sciences will take place at 2 p.m. in the Main Arena of the Cordts Physical Education Center.
FSU Interim President Tom Bowling will address the graduating class and confer degrees. Featured commencement student speakers will be Joseph Howser, College of Business; Jacqueline Kibunja, College of Education; and Caitlin Squires, College of Liberal Arts and Sciences. Greetings and congratulations will be offered from University System of Maryland Regent James T. Brad
Kibunja, of Silver Spring, will graduate with a major in elementary education with a specialization in English/language arts. She has done internships in elementary and middle schools. She has earned the Black Student Association Academic Achievement award, the Howard P. Rawlings grant and the Frostburg State University grant. She has been involved with the Frostburg Student Education Association, the National Council of Negro Women and the Delta Zeta National Sorority where she served as Risk Management chair. Her middle school internship supervisor said, "Jackie is a shining star and goes above and beyond the expectation for an aspiring teacher." Her professors admire her aptitude for teaching, the quality of her coursework and her position as a leader who has gained the respect and admiration of her peers.
-frostburg.edu