PASTOR: HOW MY ADULTEROUS SISTER-IN-LAW DROVE MY BROTHER TO HIS DEATH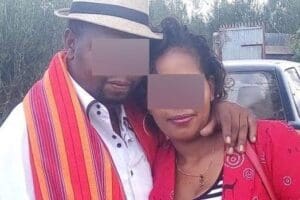 A man whose bother took his life by hanging himself last week has sensationally accused his sister-in-law for driving his brother to suicide.
The deceased (name withheld), who reportedly had long drawn marital problems with his wife, was found dangling from the ceiling of his house in Maringo estate, Nairobi on December 6, 2015, apparently having committed suicide.
But in a lengthy Facebook post and in a subsequent interview with Nairobi News, his brother, Pastor Tomothy Kagochi, laid the blame squarely on his sister-in-law for his brother's death.
"My brother loved his wife very much and he once told me that if I he could not live with her, then there is no need for him to be alive," said Pastor Kagoch, who also revealed that the deceased has previously attempted to commit suicide.
In an earlier Facebook post, the pastor had recounted how the deceased had had a troubled marriage due to his wife's infidelity.
EXTRA MARITAL AFFAIRS
"Four years ago the wife started having mpango wa kando (extra marital affairs) till all of us friends and family knew it and for four years my brother was seriously tormented and mentally tortured by the wife emotionally. I've rescued him from suicide like 3 time's before and counseled him to let the wife go but he was always unable to move on without the wife whom he loved abnormally," the pastor wrote on Facebook.
According to the pastor, his brother's marriage went from bad to worse and the family advised him to send the wife back to her parents, something he did but soon went back to fetch the woman.
On the fateful Sunday when the deceased took his life, his wife came back home in the morning but found the door locked from inside. Since she could not get in, she went and sought the help of his husband's younger brother who managed to force the door open only to find her husband dangling from the ceiling.
The deceased was laid to rest on Wednesday at his home in Kiriaini, Muranga County and the pastor has since deactivated his Facebook page.
-nairobinews.nation.co.ke