PHOTOS:Like Magufuli, Uhuru started presidency by cleaning streets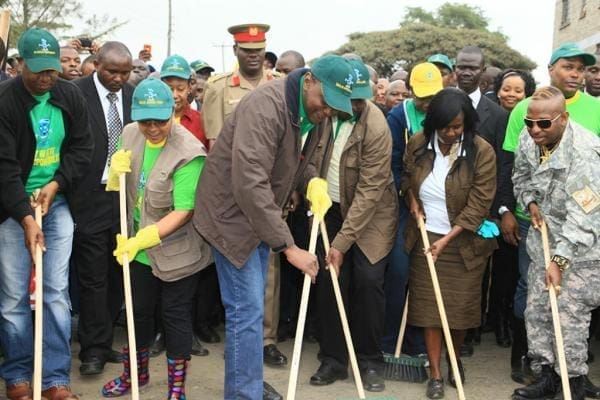 The Tanzania President's reforms weeks into the office spark memories of the hope for positive change that came with Uhuru Kenyatta's election.
Uhuru and Magufuli are staunch Catholics of the same age group – 54 and 56 respectively. They also made it past the halfway mark when they were voted in, perhaps an indication of the measure of hope their people had in them.
Magufuli garnered 58 per cent votes in Tanzania's October 25 election and Uhuru 50.07 per cent in Kenya's March 4, 2013 poll.
But more intriguing is that the two marked the start of their terms by 'cleaning the streets'.
Magufuli, whose radical reforms resulted in Twitter hashtag #WhatWouldMagufuliDo, dressed casually, put on gloves and even rode a bicycle while sweeping streets and collecting rubbish in Dar es Salaam, on Independence Day.
He cancelled the celebration on Wednesday as part of belt-tightening moves that have seen him fire port chiefs, cancel government Christmas and New Year cards and buy hospital beds using funds set aside for a parliament party.
Uhuru cleaned up Nairobi's Huruma estate three months after his election, when he said it was time to focus on economic growth and improving welfare, not politicking.
First Lady Margaret Kenyatta, Governor Evans Kidero, Senator Mike Sonko and Environment Cabinet Secretary Judi Wakhungu accompanied him.
He once surprised Kibera residents when he showed up at night to inspect National Youth Service projects and donated bulls and a posho mill to youths. The elated youth gave him a cockerel in return.
Before he lost steam, the President made impromptu night tours of the Jomo Kenyatta International Airport with a trim security detail.
In 2014, Uhuru announced that he and Deputy President William Ruto would take a 20 per cent salary cut as part of austerity measures to control the rising wage bill but this is yet to be implemented.
He has talked tough on corruption but the public has continued to complain saying action is unlikely to follow. on Wednesday, Narc Kenya leader Martha Karua asked him to take after Magufuli to win the war.
In light of this and trends termed preserves of African leaders, some have said Magufuli will slow down but many hope he stay put and keep his campaign promises.
– the-star.co.ke