The most searched persons on the internet in 2015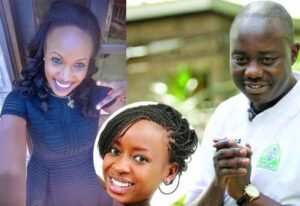 A leading gospel artiste, an actress, a Mugithi singer and a hot TV personality made the cocktail of the most trending personalities in 2015, that After Pulse broke the story of Gloria Muliro, whose acrimonious separation from her pastor husband turned into an international hit, writes MKALA MWAGHESHA
Fidel Odinga
He left behind a pretty wife and a child; that morning when he was discovered dead in his house early this year. Idah Odinga, his mother has poured one tribute after another for her favourite child, who was accorded a massive burial. Apart from a military chopper flying his body to Nyanza, the Kenya rugby team carried his casket.
Fidel tops the list because his untimely death brought a lot of controversy. International media confused Fidel with ailing Cuban dictator Fidel Castro, who is still alive but not kicking as much.
Gloria Muliro
For the 35-year-old gospel star to hit the second top most trending Kenyan personalities is not an error. The Groove award-winner and one of the most celebrated gospel artistes called it quits from an abusive marriage to husband Pastor Omba. Gloria, the soft-spoken Sitolia singer, has been suffering in silence, until she exclusively broke the story of her abused marriage. Pulse, yours truly broke the story before it went viral. Well, she has moved on and she is happier and more successful.
Paul Kobia
The gun-toting Kobia, who has as many aliases as hip-hop artiste Khaligraph Jones, is always hitting the headlines for one reasons or other; from his business empire, gold trade, allegations that he confessed to having played a part in Fidel Odinga's death and many more. The businessman was hospitalised for exhibiting schizophrenic mania near Village Market. His was one of the most popular showbiz and social media topics this year.
George Muchai
The former Kabete MP was killed in cold blood on Kenyatta Avenue in the wee hours of February 7. Muchai, who had earlier been meeting his family at Westlands Lounge, was executed in the company of his bodyguards and his driver, who were also killed. Conspiracy theories have abound after the shooting that shocked the nation.
Nana Gichuru
The beautiful model Nana died in a grisly road accident on the Eastern bypass in Nairobi. A confessed speedster who had a premonition to her end, the actress became the topic of opinion columns, with writers not sure if sharing the photos of her accident was right or wrong. Her photos were uploaded, tributes written and a whole nation forced to google her story.
Auma Obama
The general public were asking who the dark, dreadlocked lady who hugged then rode in The Beast with the most powerful president was. Well, before he became the most powerful person in the world, Barack Obama used to be picked by his half-sister Dr Rita Auma from the airport in her jalopy. He was just reciprocating in kind.
The author, journalist and sociologist played a key role in Obama's visit to Kenya and her trending and being talked after is a testament to that.
Murimi wa Kahalf
Known across the country for his massive hit Ino ni Momo, Murimi died from an unknown illness that caused quite the controversy as family members pointed fingers at each other. Murimi, during a difficult period of a mysterious illness, Tweeted: "In need of your prayers friends.
Ino ni Momo, which was released in 2011, gained the Mugithi artiste nationwide fame, as the song became a symbol of appreciation for plus-size women, or a joke behind their backs.
Mugo wa Wairimu
The 'fake doctor' who never finished university, trended for weeks, after an expose on his ways ran on TV. The 'doctor', who went into hiding before he was discovered in a hotel in Limuru, was arraigned in court then later released on bail.
Jackie Maribe
The hot TV girl is not shy of her beauty or social ways and that is why she was a hot sell for Pulse as we tracked her all year. While some media personalities made it to the 2015 fame list for their lavish weddings, Jackie has managed to trend just by being a 'socialite'.
The first TV reporter to exclusively interview President Uhuru Kenyata at State House, Jackie has seen the Internet buzz with speculation that she has dated comedian Eric Omondi and the President Director of Digital Communication, Dennis Itumbi. She doesn't stay far from fame or power it seems, as, they kissed their way to trends.
"Yes, I have had a relationship with her," Eric told Pulse early this year, before he started dating Shantel Grazioli.
Pastor Ngang'a
Pastor Ngang'a has always been a drive away from an accident. The self-made millionaire, who started out as a fruit vendor in Mombasa, was allegedly involved in an accident on the Nairobi-Naivasha highway, where one person died. Police were involved in an alleged cover-up attempt that did not escape bold journalists. Well, he trended for days, as the public rose in uproar.
-sde.co.ke