VIDEO:Man in Mombasa Bound Bus Allegedly Transforms into a Dog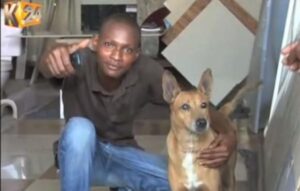 Residents of the coastal city of Mombasa were left in shock after a passenger who had traveled in one of the buses from Kitui allegedly turned into a dog upon arrival in Mombasa.
The dog which seemed calm and collected later took a nap in one of the hardware shops before disappearing into the crowded streets amid claims of black magic from mesmerized residents.
However, some witnesses claim that the dog may have hitched a ride in one of the stops.
– nairobiwire.com