Chris Kibubi's Sh13 billion mall to dwarf Garden City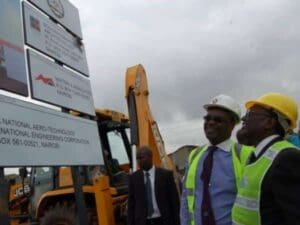 CENTUM Investments values the upcoming shopping mall at its mega Two Rivers Development project at close to Sh13 billion, underscoring the growing interest in retail space.
The largest publicly traded investment company last week agreed to sell a 50 per cent stake for Sh6.4 billion in the mall's holding company, Two Rivers Lifestyle Centre, in equity and convertible debt.
The mall is being built on 10.2 acres of land, which is part of the expansive 102-acre mixed-use real estate project in the diplomatic blue zone in the neighbourhood of upmarket Runda and Gigiri.
"The investment has been made through a subscription for a 10 per cent shareholding in TRLC (Two Rivers Lifestyle Centre) in newly issued stock and a loan convertible into an additional 40 per cent shareholding, subject to Competition Authority approval," company secretary Loise Gakumo said in a note to investors on the Nairobi Securities Exchange. "The transaction will enable OMP (Old Mutual Property) ultimately hold a 50 per cent stake in TRLC."
The cash from Old Mutual, Centum said, will enable it deliver a retail, entertainment and lifestyle experience that is unprecedented in the region.
Other projects under the Two Rivers Development include a five-star hotel, a three-star hotel being built by City Lodge Hotel, an office block being developed by Victoria Commercial Bank and high-end residences.
In April last year, Centum sold a 38.9 per cent stake in the larger development to China's Aviation Industry Corporation – the lead contractor for the project – for Sh6.4 billion.
The company, in which businessman Chris Kirubi holds the single largest individual stake of 25.2 per cent, however maintained the deal with Old Mutual will not affect its controlling 58 per cent stake in the Two Rivers Development. The remainder minority shareholding is owned by state-owned Industrial and Commercial Development Corporation that pumped in Sh462.5 million in equity financing.
The opening of the first phase of the Two Rivers mall has been deferred to March from an earlier date of last October. It is expected to churn out about 66,000 square metres of retail space on completion, dwarfing the Garden City mall – a mixed-use development on 32 acres along Thika Superhighway.
The first phase of Garden City mall – owned by Actis Fund of the UK – availed 33,000 square metres of retail space when it opened on May 28, last year.
Investors have continued to pump billions into retail space, largely driven by demand by the expanding middle class who have disposable income.
The cost of retail space was last year estimated at an average of $48 [Sh4,900] per square metre by property consultancy Knight Frank Kenya.
Some of the new shopping malls that broke ground last year include Waterfront (40,000 square-metres)in Nairobi's leafy suburb of Karen, Crystall Rivers (20,000 square metres) in satellite Athi River town and Cedar Mall in resort town of Nanyuki.
According to Broll Property Group, a South African-based consultancy with presence in major markets in sub-Sahara Africa, Kenya is increasingly rising as a shopping destination in Africa.
An estimated 30 per cent of shopping is now through formal retail chains – arguably second only to South Africa that has 60 per cent rating – Broll's managing director Malcolm Horne told participants during the East Africa Property Investment Summit last year.
Nairobi, alongside Nigeria, is however losing out in the top 100 global shopping destinations because of few indigenous brands in retail stores.
"Nairobi and Lagos are top investment destinations but when it comes to shopping they don't feature prominently in expansion plans of top global retailers," Horne said. "A lot of goods in Kenya are imported and we need a strong local brand presence."
-the-star.co.ke