Corridors Of Power: Why pay a lawyer when you can bribe a judge?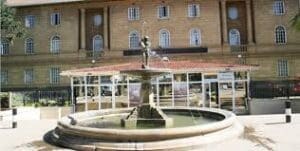 With the saga of Supreme Court judge Phillip Tunoi still hovering, some wags are wondering why a High Court judge would meet a litigant who has a matter before him. The said judge was recently spotted in an animated discussion with the litigant at a posh city hotel. Interestingly, the meeting took place a few hours before the litigant appeared before the same judge and obtained an ex parte order. Chief Justice Willy Mutunga recently complained about judges bribing fellow judges to seek a position. But this particular judge is taking it to another level — to delay justice. Indeed, as they say, why pay a lawyer when you can bribe a judge?
***
A legislator from a North Rift region is reportedly extorting money from public and private universities in his county to finance his campaigns for next year's election. Recently, the first-time MP is said to have entered into a Sh10 million agreement with a local university administrator where he is expected to recruit at least 2,000 self-sponsored students by the end of this year to join the public university in exchange for the cash. The wife of the senior university administrator is also part of the scheme, which will see the MP cash in on 30 per cent of the fee of the self-sponsored students.
***
A senior police officer with a penchant for receiving bribes is giving the Anti-Terrorism Police Unit a bad name, even though he is not assigned to the unit. The officer and his accomplices have been picking up unsuspecting people of Somali origin in Eastleigh and locking them up in police stations on the outskirts of the city. They only release them after collecting a bribe.
***
Are there plans to replace the Kemsa chief executive? Corridors has it that a group of Jubilee power brokers are lobbying to replace the boss by fronting one of their own. Employees at the government agency with no political muscle fear that they may be marginalised if the schemes to replace the man go through.
-the-star.co.ke