HOW ONLINE MONEY LENDERS RIP OFF DESPERATE KENYANS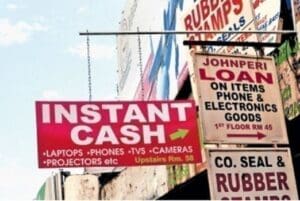 Need a little push till the end of the month? Something just came up? School fees are due? You need a cash advance?
That's how Zawadi Kenya, one of the mushrooming instant loan businesses, introduces itself online. And from the convenience of your phone or while browsing the Internet, you are a click away from getting a loan.
The growth of the Shylock business and a variety of informal lenders from street corners to the online space and mobile phone platform has been phenomenal in recent years as businesses capitalise on technology to reach thousands of desperate borrowers.
Branch, a company based in San Francisco (US) and Nairobi, which runs a huge billboard in downtown Nairobi bus station, says on its website it is out to give formal lending institutions a run for their money.
"Branch is a bank in your pocket, there for you at all times. Our first service is credit. We use technology to dramatically reduce the cost of delivering financial services in emerging markets. Join our team and help us disrupt financial services around the globe," is the brief posted on their site.
Kenyans are, however, borrowing money from such lenders for up to three times the Central Bank rate of 11.5 per cent and the figure goes up six times in case of a default.
The unregulated business of predatory lending is booming with increasing advertisements on billboards, on radio and social media, especially Facebook, offering instant loans.
The reason why they are so appealing is that they advertise as providers of instant credit and say they can process your loan request within minutes of an application for an urgent situation or even give you a small capital to boost business or travel expenses.
INTEREST RATES
Some of these lenders, however, fail to indicate interest rates — only giving a figure to be paid monthly or weekly, but if calculated the amount to be paid back stands at astronomical figures.
Others claim their interest rates are near zero which conceals the fact that they are calculated monthly and, if calculated per annum, they are actually significantly higher than what a bank will charge you.
According to Mr Wilfred Onono, managing consultant at the Interest Rate Advisory Centre (IRAC), a financial consultancy, some are charging up to 33 per cent on their products but could go up to 60 per cent on defaulting customers.
"They do not give you a rate or if they do they give you a monthly or weekly fee but when calculated annually, you are ending up paying so much," he said.
Mr Onono said that he knew a friend in the car hire business who recently took up Sh18 million to buy a fleet of 15 cars and will be expected to pay Sh809,000 for 36 months.
He said that this is about Sh10 million on interest and if he defaults he will pay five per cent interest per month which looks like a small figure until your annualise it and it is 60 per cent.
"You end up paying so highly that you might not be able to pay. You need to be doing a very lucrative business to pay up so much and in business you have to default sometimes," he said.
INTEREST CAPS
And in the digital age, the business is booming online based on referrals and very aggressive marketing.
"Get the loan now, it's simple, I have been Mkopo Rahisi client taking loans weekly and repaying on time. I need to invite you to get easy approval for the loan," Samwel Dollah, a blogger who has written an article on Mkopo Rahisi, says.
Some of them have even created mobile applications running on smartphones to increase their penetration including Mkopo Rahisi, Saida, Branch, Get Cash, Cash Now, and Pesa Direct which can run on any android phone.
And they might even get bigger if the word of the Central Bank of Kenya Governor Patrick Njoroge is to be taken on the effect of legislators clamping the formal financial institutions in interest caps.
MPs, through a legislative proposal filed by Sirisia MP John Waluke, want to cap interest rates at five per cent above the Central Bank Rate which was retained at 11.5 per cent in the January Monetary Policy Meeting.
The legislators say the banks have been ignoring indications from CBK including the Kenya Bankers Reference Rate (KBRR), the benchmark for pricing loans which was retained at 9.87 per cent.
However, Dr Njoroge said interest rate controls would be "harmful and ineffective" and only promote the emergence of a parallel market.
-nairobinews.nation.co.ke