Why Wetang'ula stopped his wife's arrest after assault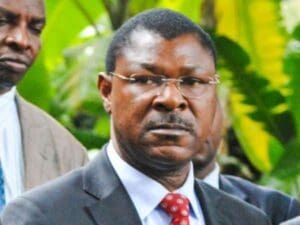 Cord co-principal Moses Wetang'ula stopped the arrest of his wife over a domestic row to avoid an embarrassing public spectacle it has now emerged.
A source privy to the matter said the senator stopped police from taking his wife Anne Wetang'ula into custody after he had accused her of physical assault.
A letter from Lang'ata Police Station to the DCIO of the Karen station seen by The Star detailed two reports, one filed by the senator, and one by his wife Anne Wetang'ula.
The latter who filed her report first on February 21 at 11am, accused the Ford-Kenya party leader of physically abusing her on the night of February 18 at 9pm.
"Anne Wetang'ula, a resident of Karen came to the station and reported that on the 18th February 2016 at around 9.00pm she was assaulted by her husband," the letter dated February 29 states.
It goes on to say; "She complained of having sustained injuries on both hands, chest and legs. She was treated at Karen hospital and discharged."
The letter then went on to state that seven hours after After Anne Wetang'ula reported to the police, her husband also filed a report accusing her of assault.
Wetang'ula filed his report at 6:30pm on February 21 in which he accused his wife of battering him after he confronted her over alleged infidelity.
"That is when according to him his wife became furious and attacked him. As a result he alleged to have sustained injuries on his head, left hand, left leg and chest," the letter to the Karen police station reads.
Wetang'ula was treated at the Karen hospital as well and discharged.
Details around the alleged arrest warrant against Anne Wetang'ula are unclear, but the source said it may have been issued after the senator produced a P3 form verifying his injuries.
It may have also been so that he would have the upper hand in the event that his wife filed for a divorce following the spat.
The files of both reports from Wetang'ula and his wife were transferred to Karen police station, which
has the jurisdiction over their residence on Karabon road in Karen where both assaults happened.
-the-star.co.ke