VIDEO: SAD STORY OF HOW HUSBAND FEEDS SICK WIFE AND CHANGE HER DIAPER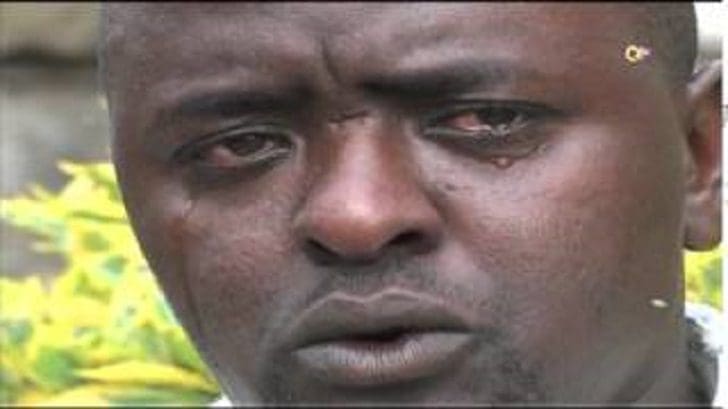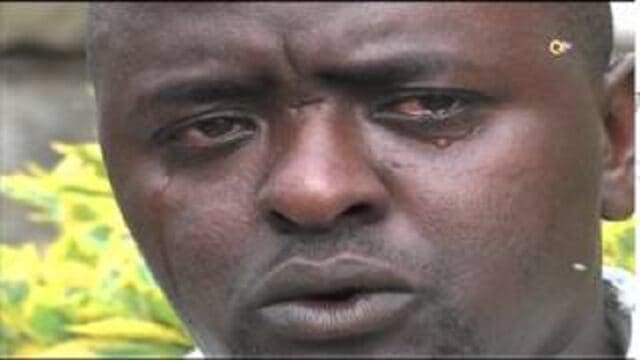 For better or for worse: I will stick by my wife.
When James Mburu and Grace Muthoni Mburu tied the knot back in 2012, they promised to be together through thick and thin.
Things however took a thick twist barely a year after their wedding when Grace was five months pregnant.
"I still remember the day. It was on a Sunday, October 27, 2013. We had arrived home from church and everything was okay. My wife informed me she was not feeling well. I requested her to go take a nap, hoping she would feel better," he recalls.
However, her situation did not get better.
"The following day at around 1pm, my wife had a convulsion. She was also sweating profusely, I gave her some water and she drank it very quickly. I then made her some porridge which she also took and went to sleep," said Mburu.
Muthoni would later be woken up at 9pm to have dinner, but she could not move. She just stared.
"Her mouth would also not open! At 3am she had another convulsion. She was kicking her legs so hard,"  Mburu says.
On Monday, October 28, Grace was left under the care of her sister as  Mburu went to work. He worked as a chef for a school near Njoro, Nakuru County where he lives.
That day he planned to leave work early so he could attend to his sick wife.
"I requested the principal to allow me leave the school early and he gave me Sh500. I was accompanied by some staff members who also came to see her. When I arrived home, her condition had worsened. We hired a taxi to rush her to hospital in Njoro," he recalls.
Upon reaching the hospital, she was immediately put on drip since her condition was critical.
"The last day I heard my wife's voice was on that Sunday when she told me that she wasn't feeling well," Mburu adds.
After several tests, doctors confirmed that at 1.6, her sugar level was very low. She was diagnosed with diabetes and put on insulin.
At this point, her life was in danger and the medics had no choice but to terminate the pregnancy in order to save her life.
She was then taken to Nakuru Referral Hospital where she was admitted.
Her sister stayed with her for one week as Mburu went back to work.
"She was feeding through tubes, she could not talk. The following week, we were discharged. The doctors advised I take care of her at home. I had earlier opened a shop for her but while we were pursuing treatment, the stock at the shop expired and so I had to close it down," he said.
In December 2013, Mburu took his wife for further treatment at Kijabe Hospital. Her sugar level was 1.3.
"I stayed with her at the women's ward so I could turn her every 30 minutes so that she could not get bed sores. We were later released and asked to return after a week.
"After two weeks, my wife opened her eyes. But she could still not talk. I decided to quit my job so I could take care of her. The doctor instructed us she should never be left alone. I cook for her, bathe her, feed her, and give her massages and therapies," Mburu said.
Mburu says he spends approximately Sh17,000 every week to take care of his wife.
He ensures that she has eaten a well-balanced diet which includes, fish, kienyeji chicken, porridge and fruits (all of which have to be specially prepared and blended as she still feeds through tubes).
He also buys adult diapers to ensure his wife stays clean.
"I am glad people have come to my aid and I am grateful. So far, we have held a total of eight harambees which have helped raise money to take care of my wife. I remember one man who once gave me all his salary so I could take my wife to hospital," he says.
Mburu adds he is in dire need of a fridge for storing his wife's medicine and food.
"I would also like to be cooking her food in bulk and store it in the fridge, so that it doesn't go bad. It will save me a lot of money," he says.
Understandably, Mburu is also appealing for medical help.
"I love my wife; I cannot ask God questions because He knows why this is happening, nilimchukua kwa wazazi wake akiwa mzima. (I married her when she was healthy) I don't know what happened," he said as he wept bitterly.
"Please pray for me, I don't know what to do anymore, I will continue to take care of my wife until she gets well because I love her so much," he said amid sobs.
Here below is James Mburu's contact for those who want to help.
1) MPESA no. +254727115616 or +254711325055
2) By PAYBILL No. 922565, Account no. 0130 1905 29117, Equity Bank, Nakuru, Account name: Grace Muthoni Medical Fund.
3) Mr. James Mburu is on WhatsApp and you can add him on your group to ease communication +254727115616.
VIDEO: SAD STORY OF HOW HUSBAND FEEDS SICK WIFE AND CHANGE HER DIAPER