VIDEO:PROPESA Nakuru comedians making it big online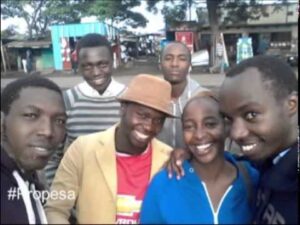 New Redykyulass group:A local Kalenjin comedy group in Nakuru has taken the internet by storm.  Clips by #Propesa have flooded the social media with nearly all turning viral.
One will be forgiven to rule that the videos are shot with expensive Hollywood-like set up. No. The videos are shot with android mobile phones at the backyard of their rented house at a government housing estate in Nakuru East.
On set, the group sits on door steps while the 'cameraman' places the mobile phone on an inverted bucket or stool for stability. The use of Kiswahili, English and occasional heavy Kalenjin dialect leaves viewers in stitches.
The lead character Mr Kimutai Ruto who is a practicing professional journalist often takes a role of Bomet Governor Isaac Rutto. Other characters on set at press conferences are Kiptangus, Chemosi, Jopiri (Larry Matayo).
PROPESA COMEDY ISAAC RUTO PRESS CONFERANCE AFTER JUBILEE WON IN KERICHO
Propesa – URP/JAP Whatsapp Group