Jicho Pevu, Other Investigative Stories Could Soon Be off Your Screens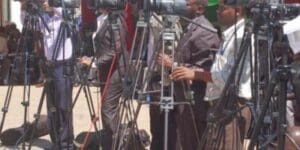 Investigative journalism in Kenya is facing an uncertain future following Friday's ruling by the High Court on Kenya Information and Communication (Amendment) Act and Media Council Act.
High Court judges; Isaac Lenaola, Mumbi Ngugi and Weldon Korir validated the act that has been termed draconian by stakeholders in the media industry.
The ruling now means that journalists will be fined up to Sh500,000 and media companies up to Sh20 Million if found guilty of breaching the code of conduct set by the government, as outline in Article 19 of the ammendment.
The new hefty fines were set to force media houses and journalists from reporting on critical matters that affect the government directly.
According to the Act passed by parliament last year, the government has the responsibility of forming a board mandated to regulate all media related content and monitoring of practitioners.
Investigative Stories
"Journalists must be prepared to face the consequences, which are in accord with the law. In our view the provisions of 38(1)(f) of the Media Council Act and Sections 102 E (1)(f) and (h) of the Kenya Information Act are not in violation of the constitution," said the judges.
Currently, a number of investigative journalists have ditched mainstream media and started private practice following revised editorial policies that did not support such hard hitting stories especially touching on the government.
Bold journalists and cartoonists in the country have also faced threats in the past after carrying stories or publishing caricature critical of the government.
The Media Council of Kenya, Kenya Editor's Guild, the Kenyan Union of Journalists and Kenya Correspondents Association had moved to court seeking the act to be declared unconstitutional.
The media practitioners are opposed to the recommendation giving the government full control over the media.