VIDEO:NEW HEALTHIER PURPLE TEA DISCOVERED IN KENYA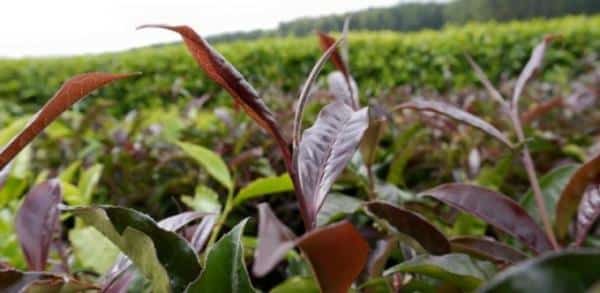 VIDEO:NEW HEALTHIER PURPLE TEA DISCOVERED IN KENYA
A new type of tea called the Kenyan purple tea has recently been discovered in Kenya. This new and unique tea that has been scientifically proven to be healthier than either black or green tea because it contains high levels of anthocyanin, a compound found in reddish purple plants like blueberries, raspberries, purple grapes, etc. that is known to have powerful antioxidant properties. Kenyan purple tea also contains a unique polyphenol, GHG that is not found in any other tea varieties
Kenyan purple tea has shown to be effective against widespread chronic diseases such as cancer, heart disease, diabetes, inflammation, hypertension, and neurological ailments. Scientific studies also show that Kenyan purple tea has more antioxidant activity than green tea or any other tea, with a radical scavenging rate over 51% more effective, and antioxidant activity twice as high as green tea. In addition, drinking Kenyan purple tea supports weight loss through the inhibition of lipase, the enzyme that breaks down fats for digestion and assimilation, as well as improving lean body mass and providing anti-aging benefits to the skin.
The Kenyan purple tea is a sub-species variety of the common tea leaf Camellia Sinensis of the assamica type. It is now being grown commercially at high elevations in Kenya where it is able to absorb more UV-rays from the sun which allows it to produce more of the beneficial, natural compound anthocyanin which gives it the purple color. With a naturally low caffeine content, the Kenyan purple tea also has a refreshing and unique thirst-quenching taste and it is a perfect nonGMO alternative to other beverages and it has no additives and no known allergens.
Martin Kabaki, a native of Kenya who now lives in Jacksonville, Florida is working directly with the increasing number of Kenya purple tea growers back in his Kenyan homeland to spearhead the farming of this new tea and allow the Kenyan purple tea growers to reap the benefits of their hard work. Mr. Kabaki is the Founder and CEO of Kenya Purple Tea, LLC and he recently launched this new and exciting tea in Santa Monica, California at BevNET Live, a major national beverage summit.
KeHE Distributors, the second largest distributor of natural food products in North America, has already jumped on board to help with the nationwide distribution of the Kenyan purple tea into natural health food stores, chain grocery stores, independent grocery stores and other specialty product retailers across the US.
"The Kenyan purple tea is now available via subscription as a ready to drink bottled tea in a 12-case pack online at www.kenyapurpletea.com and I am currently working on getting our Kenyan purple tea packaged in tea bags as well as loose leaf tea for the retail market. This new tea will definitely be a game changer in the global tea industry as it is the healthiest type of tea ever introduced in the market." said Mr. Kabaki.
Teawolf, the beverage industry leader in tea extraction processes and Allen Flavors, a beverage formulation powerhouse, both based in New Jersey, partnered with Mr. Kabaki to develop the ready to drink bottled Kenyan purple tea which comes in a recyclable 500 ml PET bottle. It comes in four different flavors – Unsweet, Sweet, Sweet with lemon flavor and Sweet with apple flavor. Alternative Laboratories, a nutraceutical and co-packing facility in Naples, Florida is handling the quality control and bottling of the Kenyan purple tea.
"10% of our pre-tax profits will be donated to Kijiji Medical, our nonprofit hospital in Naivasha, Kenya. My hope is to help improve access to better quality healthcare among the poor, underserved and disenfranchised communities in the remote areas of Kenya. Kijiji started as a small dialysis clinic and we are currently working on expanding it into in a fully-fledged hospital by bringing in additional medical services like cancer care, vision care, dental, blood analysis, radiography, lab services and pharmaceutical which are virtually nonexistent in rural Kenya." added Mr. Kabaki.
Contact info, Martin Kabaki, Founder and CEO. Kenya Purple TEA, LLC. Email address:[email protected]
Entrepreneur seeks to disrupt US tea market with anthocyanin-rich Kenyan purple tea