PHOTOS: Thousands turn up in Nakuru for Madaraka fete
PHOTOS: Thousands turn up in Nakuru for Madaraka fete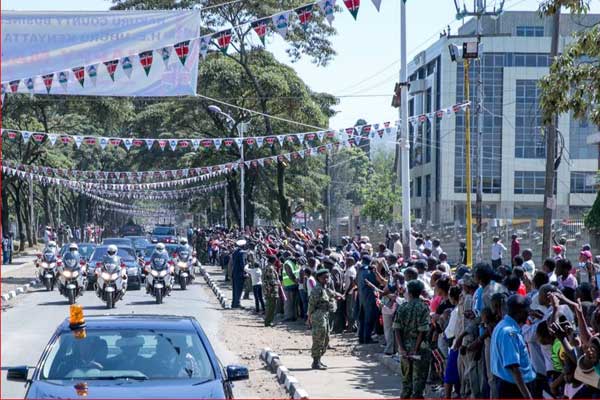 Residents of Nakuru on Wednesday lined the town's streets in their thousands as they sought to get a glimpse of President Uhuru Kenyatta and his motorcade as the Head of State made his way to Afraha Stadium, where the 53rd Madaraka Day fete is being held.
While some large businesses closed their shops, boda boda, matatu and tuk tuk operators enjoyed roaring business form the high number of visitors, who paid "handsomely" to be ferried to Afraha Stadium from the main bus terminuses.
"We are making five times more in profits compared with the normal days. To us, the event is a blessing," said Jeremy Tanui, a boda boda rider.
Some woke up early and had set up their businesses by 6am so as to attract those who arrived early for the national event.
ROADS CLOSED
With few vehicles in the town centre, as several roads had been closed, only a small number of restaurants and supermarkets were open with a trickle of customers.
Some of the roads closed include Kariba, Oginga Odinga and Moi Road.
Most people opted to remain at their homes.
Security remained tight, with huge TV screens strategically erected in and around the stadium to give the public a glimpse of the celebrations.
PHOTOS: Thousands turn up in Nakuru for Madaraka fete