Forget Ababu, align with winning Jubilee team, Lusaka tells Luhyas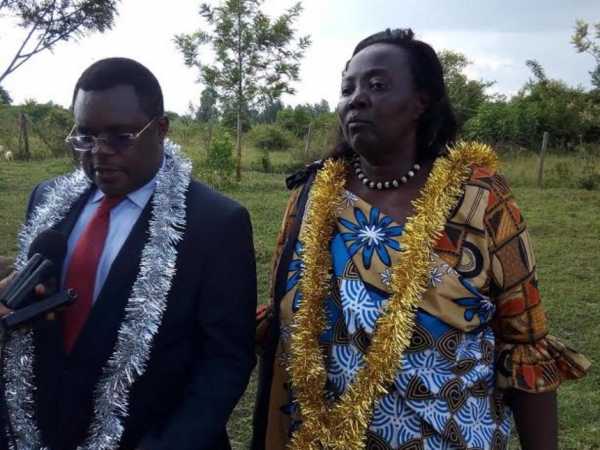 Bungoma Governor Kenneth Lusaka has rubbished Budalang'i MP Ababu Namwamba's plans to rally Luhyas behind a third political force termed 'Mulembe consciousness'.
Lusaka said there is no way a "third force" will be of impact in an election that will see President Uhuru Kenyatta battle it out with opposition leader Raila Odinga.
The Governor said the August 2017 poll will be a race between Jubilee and Cord coalitions, and that Luhyas know which horse to back.
He said the community will only back an organised and well prepared team that is likely to win the election.
Lusaka, who led the dissolution of New Ford Kenya in readiness for a merger with Jubilee, said the latter will match to victory in the 2017 contest.
"The way the political scene is unfolding right now shows we will have only two horses in next year's election. A point will reach when one will have to say they are either in Jubilee or Cord," he said.
"That is why as Luhyas we are planning early to be part of the winning team so that we can have our rightful share in the next government."
The Governor said no one gets into politics with the intention of being in the opposition or creating opposition.
"We all go to politics with in the intention of forming the government. If you want to be in the opposition you do not know what you are doing," said Lusaka.
He issued the remarks on Monday at Sangalo in Bungoma during the county's cultural celebrations.
Lusaka said Luhyas cannot make it to State House unless they back or are backed by other communities.
"We tried being on our own through Musalia Mudavadi's Amani coalition in 2013 and it backfired. We have therefore decided to work with potential winners and share the kill knowing that they will return the favour in due time," he said.
"Instead of coming and begging, let us join hands and form the government. Western is tired of being in the cold of the opposition."
Lusaka further dismissed the notion that they decided to dissolve New Ford Kenya because they were paid by Jubilee.
"Why is it that those who are joining Cord are not said to be bought? People must know we have minds and know how to make political moves geared towards benefiting our people," he said.
"Where is this auctioneering ring of buying and selling so that we know at how much people are being bought?"
Bungoma woman representative Reginalda Wanyonyi, who supported Lusaka's sentiments, asked those being frustrated in Cord to join NFK.
"Our decision to join Jubilee had been planned long ago. We are wondering why it has given our brothers in
the opposition sleepless nights. They should just cross over and come home where we will move to the right direction," she said.