Kenyan owned charity scoops London's Community & Social Responsibility Award.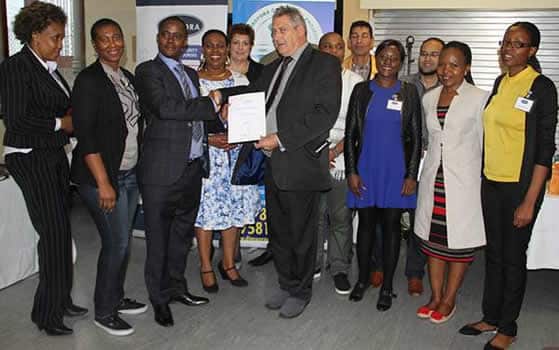 Thursday 14th was a night of jubilation and honour as staff and volunteers of a UK-based Kenyan owned charity –The Diaspora Community Projects (DIASPORA) was crowned the winners for most family & community friendly business in this year's the London borough of Barking & Dagenham Business Awards ceremony.
In the highly prestigious annual ceremony to celebrate the best of the best in the London's eastern borough, only the highly acclaimed businesses normally with multiple branches across UK and Europe are common names for those who reach finals for the awards.
It was little wonder therefore when it came as a shock when a very little known charity emerged amidst the giants to scoop the prestigious award as the winners the Social Responsibility category.
Dagenham and Redbridge Football which has been supporting young talents in football were the runners up for this category.
The Social Responsibility category recognises businesses that can demonstrate how their management practices have improved working conditions and/or relationships with customers, suppliers, and / or that their products or services have had a positive impact on their communities.
The judges' verdict read: "Finalists in this category have shown exhibited clear commitment to improving the welfare of the local community and have consistently taken steps to improve their working practices and to help others.
It was a tough decision, but the organisation that has won this award has a history of helping others to help themselves…." "..Diaspora's variety of support methods used to empower its clients through their training and business start-up programmes were found to be unparalled leading to very impressive results."
Receiving the trophy on behalf of Diaspora CEO Thomas Musau said that the award was as a result of the hard work of all staff and volunteers who have worked selflessly to improve the lives of other people in the community.
He said: "I salute all the staff and volunteers for their hard work and dedication to serving the less privileged sometimes with very limited resources" The Diaspora Community Projects was founded over ten years ago and has been in the forefront of supporting the marginalised communities of the east London to improve their living standards through training and employment support.
Diaspora is widely known for its long history of training in Care, Security (SIA cards) and Construction (CSCS cards) and many other courses. In partnership with the local council and jobcentreplus they offer free job-search, job applications support, CV writing and basic IT training for the local communities.
For more details please visit www.diasporacp.org
Kenyan owned charity scoops London's Community & Social Responsibility Award.