VIDEO: KENYANS CAN'T BELIEVE ORDINARY UGANDANS GAVE MONEY TO DR BESIGYE
VIDEO: KENYANS CAN'T BELIEVE ORDINARY UGANDANS GAVE MONEY TO DR BESIGYE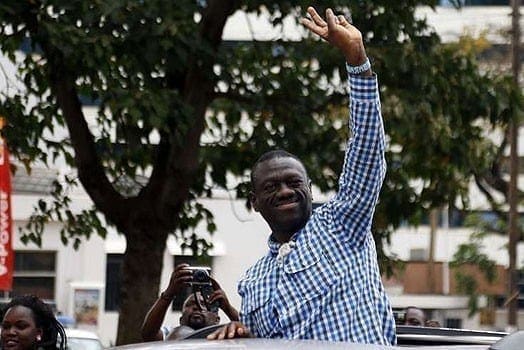 Kenyans have reacted in awe after a video emerged showing ordinary Ugandans giving money to opposition leader Dr Kizza Besigye who is besieged by countless law suits.
In a case of reversed roles for most Kenyans, elated Ugandans rushed to Dr Besigye's motorcade in Kampala and handed him notes, which he gladly received.
The video was uploaded on Facebook by NTV Uganda, with the station saying that his car was later towed to Jinja Road Police station.
The Forum for Democratic Change (FDC) former presidential candidate was re-arrested on his way from Makindye Magistrates Court where a case of disobeying lawful orders against him and Kampala Lord Mayor Erias Lukwago had been dismissed.
Kenyans were dismayed that it was Dr Besigye who was receiving money from supporters and not the other way round.
In Kenya, politicians are expected to dish out money to supporters.
On Facebook, Noah Daudi wondered: "Amazing how the people are giving money to Besiggye. Roles reversed," while Tony Moturi said, "When you are the Peoples President, your salary is paid DIRECTLY without URA getting a bite."
Another Facebook user David Kisabuli wrote: "Besigye receiving contributions from the public. Our people should emulate Ugandans," while Jadwar Hunter weighed in, "What a contrasting political style between Kenya and Uganda! In Kenya, the good citizens ask for monetary handouts from politicians while in Uganda, the people give money to the politicians."
Eric Ochanji also added his voice to in video: "How Ugandans love this man. While Museveni has blocked access to his bank accounts, he only needs to get out of his home and the people will give money."
-nairobinews.nation.co.ke