VIDEO:Nyeri MCAs exchange blows
Nyeri residents were on August 23, 2016 treated to ugly scenes as ward representatives brawled over a motion to impeach Governor Nderitu Gachagua. PHOTO | GRACE GITAU | NATION MEDIA GROUP
Nyeri County Assembly members fought on Tuesday over a bid to impeach Governor Nderitu Gachagua that degenerated into a brawl that also affected journalists and staff.
The fight pitted the MCAs allied to Mr Gachagua against those supporting his ejection. A member supporting the county boss was roughed up for his stand.
Chinga Ward Rep Paul Ngiria, who has opposed the Motion, had just driven into the assembly and walked past a group of MCAs, when a war of words erupted.
Kimathi MCA Stephen Mwaniki and his Rugi counterpart, Mr Johnson Njoroge, followed him and grabbed him by his shoulders. However, Mr Ngiria fought back and asked the other ward reps to leave him alone or he would hurt them.
A scuffle followed when the tirade of words continued and the assembly members started punching one another. The MCAs held Mr Ngiria, but he tried to punch his way out of their grip, tearing his shirt in the process.
The two House sergeant-at-arms intervened and lifted the MCA in a bid to end the scuffle. When Mukurweini Central MCA Hudson Gicheru noticed that a Nation journalist was taking photos of the fight, he allegedly grabbed her camera and tried to twist her arm to wrest the camera from her. "Why are you taking photos?'' he is said to have asked loudly.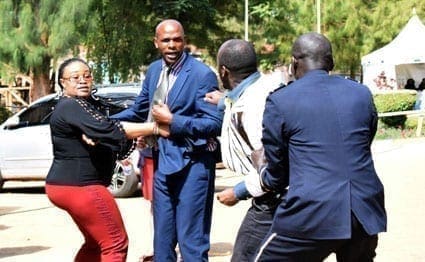 Some of the Nyeri ward reps during the brawl at the House. PHOTO | GRACE GITAU | NATION MEDIA GROUP
But other journalists screamed and other guards manning the assembly intervened. At one point, Mr Ngiria convinced the sergeant-at-arms that he was leaving, but went back to confront rival MCAs scoffing at him from a distance.
Assembly staff scampered for safety and some ward reps ran back to the chambers. The sergeant grabbed him again and held him until calm was restored.
Mr Mwaniki and Mr Njoroge, however, denied attacking their counterpart, insisting that he was only dragging them into his issues.
Mr Ngiria while recording a statement at the Central Police Station accused them of starting the fight.
Nominated MCA Regina Macharia condemned the attack on journalists.
"The MCA's conduct is shameful. It is sad that he could attack a journalist and take her equipment. He needs to respect journalists and their work," she said.
Speaker David Mugo said the Powers and Privileges Committee would take disciplinary action against the ward rep, who attacked the reporter. The incident was also condemned by the Nyeri Journalists Association.
Mr Ngiria has encountered hostility since he moved to the governor's camp and has not been in talking terms with most MCAs.
Last month, he was ejected from various committees and labelled "the governor's puppet." However, Mr Ngiria said he would defend Mr Gachagua to the grave, insisting that his performance was good.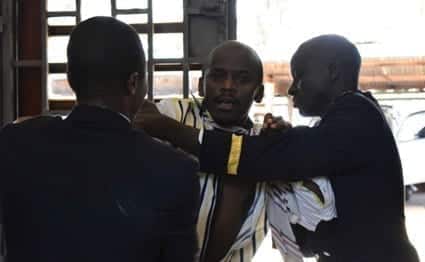 Nyeri County Assembly security guards restrain a ward representative involved in a brawl over a motion to impeach Governor Nderitu Gachagua on August 23, 2016. PHOTO | GRACE GITAU | NATION MEDIA GROUP
He accused his opponents of using the impeachment to settle personal scores with the governor.
Majority Leader Duncan Gituanja tied the incident to chaos in his Kabaru Ward in May ,where MCAs were whipped and chased away.
He added that they were steadfast in the impeachment Motion expected on Wednesday.
Kiganjo Mathari MCA Baragu Mutahi is expected to give a notice of Motion of impeachment in the morning sitting.
If this happens the ward reps will move to debate the Motion in the afternoon. Thirty five MCAs have signed up to impeach the governor over alleged gross misconduct and violation of the Constitution, but Mr Gachagua accuses them of blackmail and proposing projects that have not been approved by the public.
-nation.co.ke