President Zuma to visit Kenya next month, discuss trade ties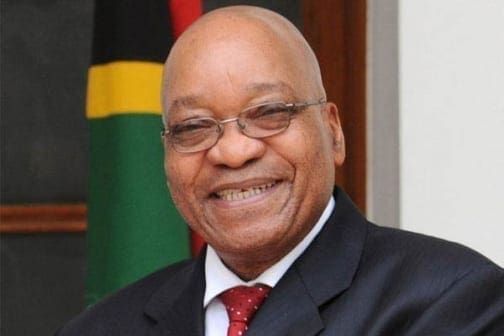 South Africa President Jacob Zuma is expected in the country early next month for a three days State visit.
President Uhuru Kenyatta and Zuma will hold bilateral talks on the second day after the latter's arrival, which will include addressing the visa barriers and trade ties in the tea sector set to benefit the people of the two countries.
State House spokesman Manoah Esipisu yesterday confirmed that Zuma will be in the country from 10th of October and will be accompanied by a delegation of over 100 business people.
"The president will arrive on Monday and will be hosted for bilateral talks the following day at State House. The two leaders will hold bilateral talks aimed at enhancing business ties between the two countries," explained Esipisu.
Although Kenya and South Africa relationship is cordial, the two countries are yet to formally enter into negotiations that would strengthen their bilateral cooperation, despite Zuma visiting Kenya last year.
Kenya will focus mainly on three key areas, the Visas, non-tariff barriers and the operations of Common Market for Eastern and Southern Africa (COMESA), East African Community (EAC) and Southern Africa Development Community (SADC).
The government will be seeking the indulgence of South African to implement it's amend immigration laws to ease travels as it has an adverse impact on Kenyans wishing to travel to South Africa.
The stringent visa requirements has hindered the smooth flow of people and goods.
"Kenya is eying the South African market to export tea. In turn, the South African leader is interested in coal energy and will therefore visit the geothermal plant in Naivasha, Nakuru County," explained Esipisu.
He went on, "Also the Lamu Port Southern Sudan-Ethiopia Transport (LAPSSET) is of interest to the South Africans."
The spokesman said the South Africa Head of State is expected to attend a business forum together with his host, where they will explore areas of cooperation.
Last month, President Kenyatta and Zuma met on the sidelines of the sixth Tokyo International Conference on African Development (TICAD VI) in Nairobi to discuss regional security and bilateral issues.
The two leaders discussed the situation in South Sudan and how the Intergovernmental Authority on Development (IGAD) was navigating the peace process in trying to restore sustainable peace.
In last year's meeting the two leaders identified trade and industrialization as areas that the two countries could move into to create jobs for their respective young population.
Other sectors included energy, science and technology, sport, arts and culture, mining, tourism, among others.
And to further cement the relationship between the two countries, the two presidents agreed to exchange state visits and instructed their respective Ministries of Foreign affairs to organise the same.
-standardmedia.co.ke