Wetang'ula rejects Atwoli bid to name Luhya spokesman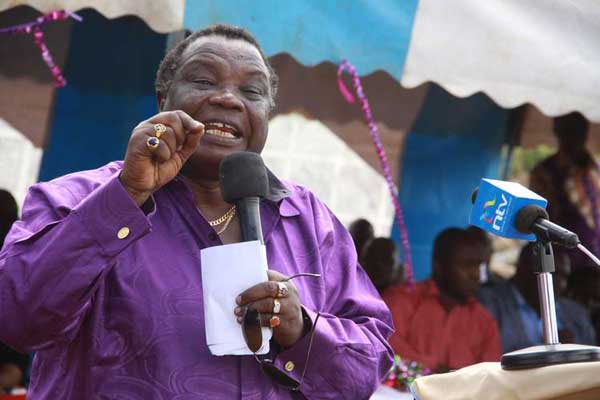 Ford Kenya has rejected plans by Cotu boss Francis Atwoli to name a spokesman for the Luhya community.
Ford Kenya leader Moses Wetang'ula and his deputy Boni Khalwale have challenged Mr Atwoli to tell residents who had given him the mandate to name a spokesman for the community.
Mr Wetang'ula said the initiative by Mr Atwoli, who has vowed to unveil a spokesperson for the community on December 31, is "unacceptable" since it amounts to hand-picking a leader as spokesman.
"Mr Atwoli is my brother and friend but I do not support him on the issue of unveiling a spokesman for the Luhya community. He should first explain what method he used to identify the spokesman," he said at Lung'anyiro Village in Matungu after attending a burial on Friday.
Mr Wetang'ula said: "If Mr Atwoli wants to appoint his spokesman that is fine but let him forget about imposing an individual as a spokesman for the community."
Mr Wetang'ula said the decision by Amani National Congress leader Musalia Mudavadi to work closely with Cord has consolidated the support for the opposition in Western region.
However, Mr Atwoli has told leaders uncomfortable with his initiative not to bother attending the meeting to unveil the spokesperson.
"Those grumbling about what we are doing should sit at home and watch the event which will be televised live," he said during the burial of his sister-in-law at Bukembe Village, Bungoma, on Saturday.
"We having nothing to hide and all we are doing is to ensure the Luhya community votes as a bloc in 2017 so that they can strengthen their bargaining position in national politics," he added.
The Cotu boss said he had commissioned a team from a public university to carry out a survey and identify a spokesperson for the Luhya community.
But key politicians from western Kenya claim he is pushing his own interests.
Dr Khalwale said the campaign spearheaded by Mr Atwoli could trigger divisions in Western.
"We know there is a political scheme behind the campaign targeting to pit Mr Mudavadi against Mr Wetang'ula and trigger divisions," he said.
Some politicians in the region are reportedly planning to disrupt Mr Atwoli's meeting.
But the Cotu boss warned that any attempt by the politicians to disrupt the event would be met with the "full force of the law".
"I'm aware they are keen to demonstrate to their political masters that they are serving their interests. I dare them to try and [they will] face the consequences," he said.
Mr Stanley Livondo, who is eyeing the Kakamega senatorial seat, has accused Mr Atwoli of failing to consult other leaders on the matter.
"We want Mr Atwoli to know that he cannot impose a spokesperson of his choice on the community without consulting widely on the matter," said Mr Livondo.
But Mr Atwoli said the members of the community in the vast Western region would witness the naming of the spokesperson.
He has urged professionals from Western region to back his campaign.
Meanwhile, there are reports that the venue of the event has been switched from Muliro Gardens to Bukhungu Stadium due to the large number of people expected to attend.
Kakamega County head of communication Sumba Juma, however, said the garden is reserved exclusively for recreational activities and no political rallies would be allowed.
-nation.co.ke