WOW PHOTOS:See Bishop Kiuna's New Luxurious Jet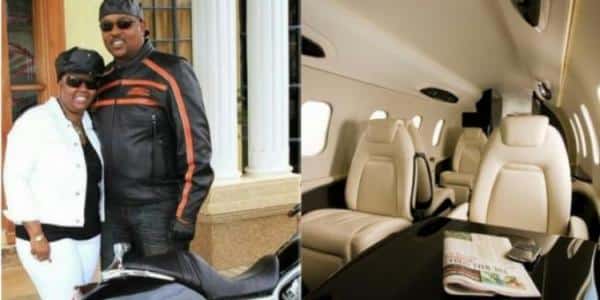 Popular Nairobi- based Bishop on Monday surprised Kenyans after showcasing an expensive private jet that was given to him as a gift on his 50th birthday.
Allan Kiuna, who heads the Jubilee Christian Church, took to his Instagram account and posted a photo showing a Bombadier Learjet 85 with the caption, "Thank you very much wonderful people".
On Sunday, the seemingly benevolent congregation at the JCC decided to buy their Bishop a private jet as a birthday.
The montage photo captured the exterior of the white jet as well as the elegant interior with brown leather seats.
Kenyans.co.ke established that the mid-size jet has a capacity of 8 passengers and is priced at approximately Sh2 Billion before tax.
Kiuna's latest toy makes him the first pastor in Kenya to own a plane.
The Kiunas have in the past attracted public attention for their flamboyance.
Their Runda home remains of Kenya's best architectural masterpieces.
Here is photo and the comments:
-kenyans.co.ke