How NASA plans to share positions if they win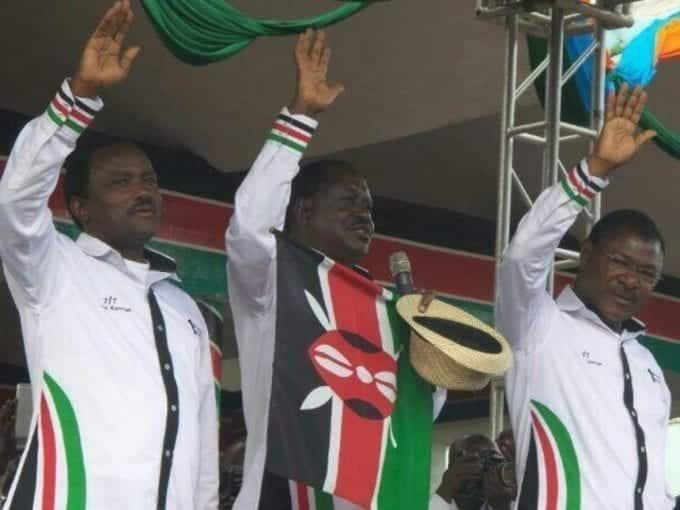 NASA aims to work within the Constitution and will not, as suggested, create positions of Prime Minister and two deputies to share power and appease leaders of the alliance.
Sources on the alliance's technical committee tell the Star the initial proposal on a PM and deputies' positions was opposed by a number of member parties.
Instead, if it wins, the alliance will fill current positions under the constitution by consensus.
Apart from the President and Deputy President — flagbearer positions yet to be decided — the positions are National Assembly Speaker, Assembly Majority Leader, Senate Speaker, Senate Majority Leader, Nairobi Governor and Mombasa Governor.
It is hoped these positions will be filled through consensus and accommodate leaders of different communities.
The plan is to cast Jubilee as an exclusive two-community outfit and NASA as broad and inclusive.
NASA's Technical and Strategy Committee handed its recommendations to the National Coordinating Committee on Monday evening and sources described their report on future government structure.
The technical team had been working on a two-model approach if it wins in August — a PM and deputies, which would require difficult constitutional amendments, and filling existing positions.
"The main challenge is picking a presidential flagbearer but I am sure we will get to the August polls together and field one candidate," Vihiga Senator George Khaniri. told the Star yesterday.
The idea of amending the Constitution is to be abandoned, since winning is not guaranteed and the opposition could be out in the cold for five years until 2022.
The technical committee forms the core NASA team, however, other committees will be formed under it.
Each party has two representatives in the technical team and ongoing talks.
The opposition has also created different levels of information flow to avoid leaking of information in its campaign structure.
"We will have two experts to represent us in the talks. It is a politicking year and we have to move ahead with all Kenyans. It is not about me or any other person in the party, but it is about growing the party as well as our country," Kanu secretary general Nick Salat said.
Kanu is not officially part of NASA, though it will be involved in alliance negotiations.
Insiders hint Mombasa Governor Hassan Joho is likely to retain his seat, since he represents strategic interests and has influence across the country among the younger generation.
He also has strong influence among the Muslim community.
Former National Assembly Deputy Speaker and Raila Odinga's key ally Farah Maalim is being considered for a senior post in the new structure to ensure the interests of Muslims and marginalised groups are catered for.
He will run against Majority Leader Aden Duale for Garissa Township.
The team has also proposed a strong Parliament and Senate to keep the executive in check.
It has also established a roadmap, enabling the steering committee to easily achieve consensus to field candidates in all positions.
Under the new structure, the committee working with other NASA teams, will ensure strong devolved governance to create wealth and quality jobs for millions of people.
The technical team also proposed a number of governors to work with in an inclusive NASA government
"Bomet Governor (Isaac Rutto), Wavinya Ndeti and other parties will join us at the right time in a strong super alliance," Khaniri said.
Rutto has said, however, he is not joining the alliance.
Multiple sources within the technical team and the steering committee said the Super Alliance agenda remains a social democratic policy bringing together strategic leaders across the country.
The policy of the alliance is to be anchored in economic and social stability, security and national cohesion.
The committee has created a platform to engage professional bodies, unions and civil society groups before the election. Talks will ensure they are part of the new government, to improve policy implementation and to have a framework within which to raise grievances.
"Knut is one of them. Doctors and nurses must be part of the new government. We will create and a platform to engage them as part of our initiatives to strengthen government institutions, honor CBAs and correct historical injustices," ANC leader Musalia Mudavadi said during voter registration in Vihiga.
Responding to NASA's call to work with trade unions, Cotu secretary general Francis Atwoli said unions are free to work with any party as long as they have wananchi's interests at heart.
He said Cotu was nonpartisan representing workers from all parties in the country. Atwoli said Cotu national delegates delegates must endorse a working agreement with any party or alliance.
The National Coordinating Committee and other committees will come up with a plan to create to create an inclusive economy and strengthen small businesses as well as manufacturing companies in counties.
The different committees must develop mechanisms promoting open governance, increasing transparency and deepening democratic reforms.
The new structure of the government is to promote equality, social justice, gender equality, solidarity, sustainable development and democracy, among other national interests.
This is part of the ODM manifesto, due to Raila's influence on the technical team.
-the-star.co.ke