I won't stand for president again, Raila says after Uhuru defeat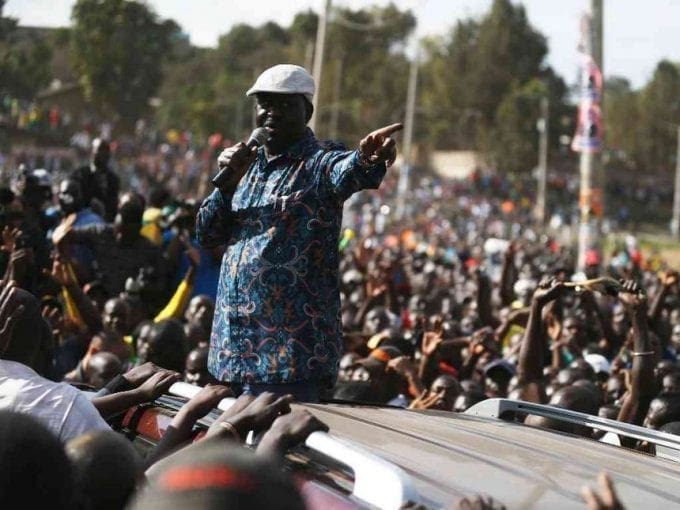 Raila Odinga has declared he will never be a presidential candidate again following the August 8 defeat by President Uhuru Kenyatta.
IEBC's official announcement on Friday named Uhuru winner with 1.4 million votes more than the Opposition leader's.
Raila has refused to concede and called for a work boycott on Monday, saying the National Super Alliance will make a major announcement on Tuesday.
The Financial Times reported Raila's declaration following his interview with the news agency on Sunday.
"I'm not going to be a candidate again," he said. "We just want Kenyans to know what happened, what the whole world is not understanding is happening."
The Opposition chief vied and lost in 1997, 2007 and 2013 and has alleged rigging but he noted in the interview that he is not trying to take the presidency by extra-constitutional means.
"It is not about me. It's not about Raila Odinga," he said. "…there's no point in people going to elections in the future, queuing for hours to vote or running around for months campaigning. At the end of the day it's the computer in the national tallying centre that's making the decisions."
There has been growing international pressure for Raila to concede defeat, especially after observers said the election was largely free, fair and credible.
Their united stance leaves him isolated if he chooses to maintain the allegations of election fraud and proclaim himself president.
The Opposition leader disputes the results saying it was rigged but he has not provided documentary evidence.
In the FT interview at his home in Karen, Nairobi, he said he will give "compelling evidence".
"We will show the kind of charade the whole world has been treated to," he said adding the United Nations should audit the election result.
He also said: "With the experience of what happened to Chris Msando they were very frightened."
Msando, who was IEBC's acting ICT manager and in charge of the KIEMS, was murdered in what Opposition leaders claim had to do with the election.
International investigators FBI 9USA) and Scotland Yard (UK) offered to help.
Protests erupted in a few of Raila's strongholds in Nairobi and Kisumu following Uhuru's win. A 10-year-old girl was among people shot dead as protests intensified in Mathare, Kibera and parts of Nyanza region on Saturday.
Kenyans are fearing a repeat of the violence that followed 2007's disputed election. Around 1,200 people were killed then and 600,000 displaced after Raila called for political protests that sparked ethnic violence.
Regional trade was paralysed and Kenya's economy – the region's biggest – took years to recover.
The country was largely quiet on Sunday following the violence and a rights group said there have been at least 24 deaths and claims police are attacking the public but authorities have denied this.
On Sunday, State House spokesman Manoah Esipisu asked people to go back to work and said police will handle illegal protests.
Source link-the-star.co.ke