Raila says he will not sign Form 24A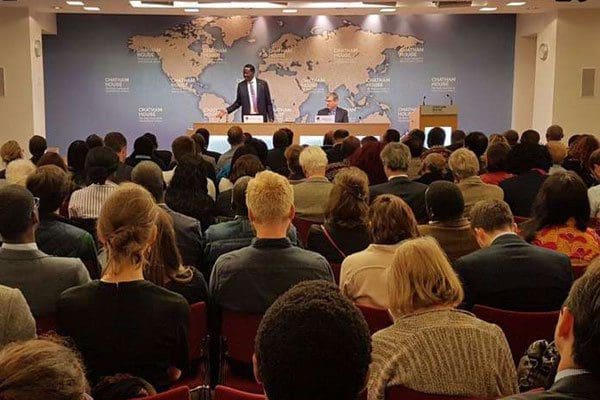 Nasa leader Raila Odinga has said that he will not sign Form 24A – the statutory form the IEBC requires candidates to fill to withdraw from the repeat poll.
Mr Odinga was quoted by Citizen TV saying he will not need to because he already wrote a letter to the commission to withdraw his candidature.
Mr Odinga was in London to speak at the UK democracy hub Chatham House.
DEMOCRACY
In his speech, Mr Odinga decried the deteriorating democracy in Africa, which he said was partly attributed to the West's waning concern.
"While the West has previously underwritten democracy, it appears to be pulling back," Mr Odinga said.
He said the way in which elections were being held in Africa was confounding even observers "who do not know how to describe them".
Mr Odinga said elections in Africa are being judged "not by how free and fair they are but how peaceful they are".
"Performance of incumbents is getting judged by how they can be used to fight terrorism no matter the human rights abuses that accompany the fight and economic gains that come with doing business," Mr Odinga said, in apparent reference to the initial endorsement by many observers of President Uhuru Kenyatta's win on August 8.
OBSERVERS
He said elections in Africa had become a ritual "which must be won by the incumbent at all costs".
"Election observers will come weeks before the elections, stay mostly in the capital cities and at the end of it give a verdict that 'although there may have been flaws here and there, by and large it was a reflection of the will of the people."'
Mr Odinga travelled to London on Wednesday, a day after dramatically withdrawing from the October 26 repeat poll.
His visit, during which he met the Archbishop of Canterbury Justin Welby and a number of British government leaders, is meant to rally support for electoral reforms.
FREEDOMS
He regretted that regular multi-party elections have not translated into good governments and respect for the rule of law and fundamental freedoms.
"That's why there is new thinking that rather than focus on elections alone, there is need to focus on building freer societies, separation of powers, independence of the media and the judiciary, devolution of power and resources, restriction of presidential power and respect for term limits."
But even as he spoke, Kenyans allied to President Kenyatta took to the streets to protest his withdrawal from the race, and asked him to go back to the country and subject himself to the fresh polls.
PROTESTERS
Just like at home, Nasa supporters held parallel pro-Raila protests outside the UK Parliament while Jubilee supporters picketed at Chatham House.
Pro-Uhuru Kenyatta team carried placards with messages taunting Mr Odinga's withdrawal, while the pro-Raila group urged him not to get into the process until reforms were made.
Later, the Nasa protesters went to Chatham House where they faced off with Jubilee supporters, with each voicing support for the different sides.
Source link-nation.co.ke