Repeat poll to go on as scheduled, Wafula Chebukati says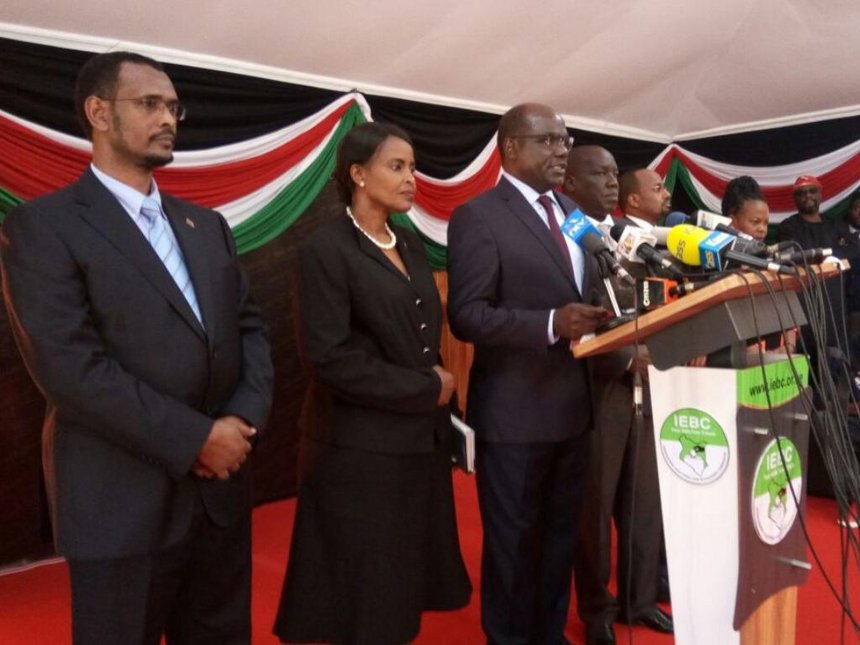 IEBC chairman Wafula Chebukati has maintained that Thursday's presidential elections must take place as planned.
"Based on the assurance we have received from security agencies, election will be held tomorrow," he said.
Chebukati addressed a press conference at Bomas of Kenya on Wednesday.
He said tough decisions must be made adding that all polling stations will open at 6am and close at 5pm.
"In cases where there are problems in voting, polling officers will inform us and polling will be suspended to a later date," he said.
He said the commission has consulted with IPOA and agreed that police brutality must stop and officers be put on notice.
The clarification follows in the wake of the Supreme Court, for lack of quorum, failing to hear a petition seeking to stop the election.
Justice David Maraga said most judges were away and hence could not reach the quorum of five expected to preside over such matters.
Source link-the-star.co.ke
————————————————————————————————————
NAIROBI, Kenya, Oct 25 – The Independent Electoral and Boundaries Commission has said that Thursday's presidential election will go ahead, since Justice George Odunga did not quash the appointment of IEBC Returning Officers and their deputies.
The case which was filed by human rights activists Khelef Khalifa and Hassan Abdi was seeking to have the appointment of Returning Officers and their deputies quashed, saying their appointments were not done in accordance with the law.
They argued that the IEBC acted in bad faith and breach of the Constitution and the law by purporting "to make the appointments of constituency and deputy constituency Returning Officers without the laid down procedure of the law, ignoring the need for transparency and accountability and in the process violated the provisions of the elections regulation," the application indicated.
The two applicants asserted that they had made enquiries from several political parties including Chama Cha Uzalendo (CCU), Orange Democratic Party (ODM), Amani National Congress (ANC) whether they had received the list of the officers for the October 26 presidential election, but they informed them that they had not received any proposed list as at October 12, 2017.
The applicants' case was that the process leading to the decision was illegal, procedurally unfair and violated the basic tenets of the rule of law and principles of the electoral system.
Justice Odunga acknowledged that IEBC violated the election regulations for not presenting the list of the appointments 14 days before the proposed date of the appointment to the political parties to enable them make representations, but said he could not invalidate the appointments due to the public interest.
"Therefore without sanitizing the said process, I decline to issue the reliefs sought herein in the exercise of my discretion not based on lack of merit, but on public interest," Odunga ruled.
The Independent Electoral and Boundaries Commission has already dispatched officials and election materials in most of the counties to be distributed in the various polling stations.
The polling stations are expected to open as from 6am until 5pm on Thursday
Source link-capitalfm.co.ke